Real-ale micro pub gets a boost from Recovery Fund
24/11/22 - A micro-pub that brings a range of real ales to Stapleford is the latest business to benefit from the Town Centre Recovery Fund.
The Millipede on Alexander Street will use its grant to install a new illuminated sign to help attract more passing trade. It will also be used to buy a racking system and hoist for the beer barrels, to avoid them having to be manually lifted into place.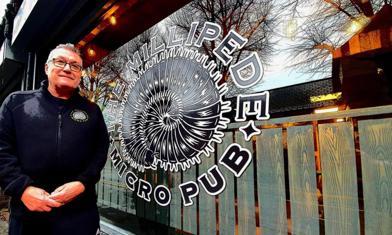 Landlord Simon Kemp said: "None of us that work here are spring chickens anymore and it is a difficult job to haul a 40kg barrel up to above shoulder height. Up until now I've been doing it on my own, so this will make a real difference. 
"The racking will also increase our storage capacity meaning we can offer a wider selection of ales." 
The pub, which opened in November 2018, remained open for as much of the pandemic as possible, adapting by offering takeaway and delivery services.  
Simon said: "Thankfully, we have a small outside seating area so we could make use of that, but it obviously impacted on trade.  
"Things are getting back to normal now which is great, but this funding is a real boost as it will help us improve the way we work and hopefully attract even more customers with the new signage." 
The Town Centre Recovery Fund is part of the £21.1m Stapleford Towns Fund, which aims to support businesses to bounce back from the pandemic and revitalise the high street. 
---
---