Stapleford marketing agency on the up thanks to Recovery Fund grant
02/11/22 - A Stapleford marketing agency is growing thanks to a grant that has helped it diversify its business.
Bloody Marketing, which offers full-service marketing to commercial businesses, really struggled during the pandemic with many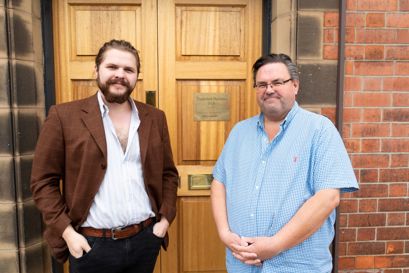 of its clients cutting their marketing budgets as times got tough.
With the help of a £5,000 grant from the Town Centre Recovery Fund, the firm, based at the Stapleford Business Hub on Toton Lane, has been able to purchase equipment to offer a new digital service to its clients, 360-degree virtual tours, which helps businesses show their customers around their premises from the comfort of their own home.
Russ Allcock, co-owner of Bloody Marketing, said: "Our clients have seen a real change in their visitor and customers' buying habits, with so many being nervous about visiting public spaces. The equipment we've been able to purchase with this grant means we can create real-life 360 views around their shops, stores or premises, helping reassure customers of their safety in advance of their visit."
The grant has also led to the recruitment of a new marketing apprentice. "Being able to offer a new service has meant we've been able to expand the team and offer a career in marketing to a young local person. We always aim to hire local talent, and supporting those with a passion for creativity is high on our priorities," said co-owner, Dan Davison.
The company, which launched in 2019, moved from the city centre to Stapleford two years ago - a decision it's glad it made. "Since we moved from Nottingham we've not looked back. Stapleford is really well located and easy for our team to get to work and out to our clients in and around Nottingham and Derby. And parking is way more accessible than it ever was in Nottingham.
"Stapleford's been underinvested in for so long and it's great it's now getting some much-needed support. We know it's going to have a massive impact for everyone in the town," said Dan.
---
---