New lease of life for Stapleford soft play centre
New lease of life for Stapleford soft play centre
27/10/22 - A soft play centre that was badly hit by the pandemic has been given a boost with a £4,500 grant from the Stapleford Town Centre Recovery Fund.
Sue Cumberland and business partner Karen Simpson took on the Little Drivers play centre in Plowman Court in May 2020, not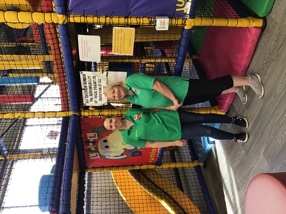 realising then how long-lasting the lockdowns would be. 
She said: "Initially we thought it would be quite good timing because it would give us a chance to get the work done that we needed, but once we got in there we realised there was an awful lot more needed doing than we originally anticipated. It needed new heating, rewiring, you name it! That combined with the lockdowns meant it was a tough start.  
"In our first 16 months of running the business we were only able to open for nine weeks, but we're building back up now and people are starting to realise we're here and what we're doing. We've had so much positive feedback which is lovely." 
The grant – which will be used to buy new play equipment and new kitchen equipment for the café – has helped fund work that would otherwise have had to be put on hold. 
Sue said: "Being able to get this money has been so helpful. These are things that we really wanted to do but would not have been able to find the money for in the short term. 
"We're working really hard to create somewhere that children and families love, and this is a huge boost along the way." 
The Town Centre Recovery Fund is part of the £21.1m Stapleford Towns Fund, which aims to support businesses to bounce back from the pandemic and revitalise the high street. 
---
---