New look for sewing studio and shop
20/10/22 - A shop and sewing studio which attracts customers from across the country is to get a makeover thanks to the Stapleford Town Centre Recovery Fund.
Sewing B, at 174 Derby Road, opened its doors at the end of 2019, just months before the pandemic hit. Despite being forced to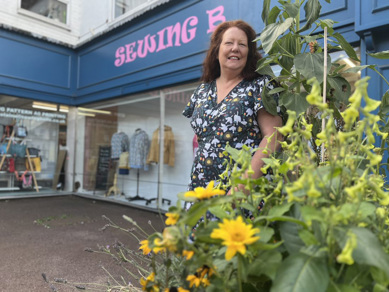 temporarily close so early on in its life, the business is now growing. It offers a wide range of sewing workshops and courses in everything from beginners sewing to advanced dressmaking - including how to make your own jeans, shirts, bags and more. 
The business has recently received an added boost in the form of a grant to enable improvements to the exterior of its premises.  
Elaine Bell said: "This grant is going to enable us to have new shop windows and doors with better disabled access, creating a more sound-proof and insulated shop and studio.  The exterior brickwork is also being painted. It's going to look absolutely amazing and I'm really excited."  
Elaine added that all the work is being carried out by local businesses - the doors and windows are being installed by Long Eaton Glass and painting by Concept Painting Contractors Ltd – so the money will stay within the local community. 
 
The Town Centre Recovery Fund is part of the £21.1m Stapleford Towns Fund, which aims to support businesses to bounce back from the pandemic and revitalise the high street. 
---
---