No trick or treat
28/10/22 - Young people in Broxtowe, along with their parents and carers are being encouraged to make Halloween safe and enjoyable this year, as part of Broxtowe's 'No Trick or Treat' campaign.
As part of the campaign, Broxtowe Borough Council and Nottinghamshire Police are urging local people to help put a stop to the anti-social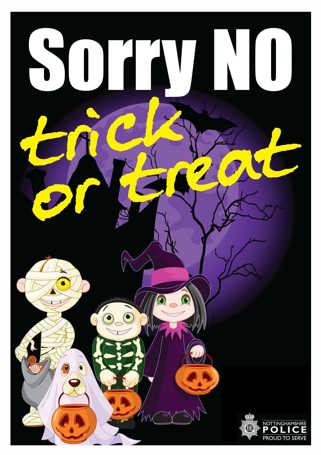 behaviour that is often associated with Halloween by not visiting houses displaying No Trick or Treat cards.
No Trick or Treat cards are freely available from various locations in the borough, including the Council Offices in Beeston, and police stations, they can also be downloaded from the Council's website at www.broxtowe.gov.uk
By following a few simple tips, trick or treaters can help keep themselves and others safe:
Children should always go trick or treating with an adult
Stay in areas that are well-lit with streetlights
Do not knock on doors where there is a 'No Trick or Treat' sign
Do not enter any house – always stay on the doorstep
Be considerate – do not frighten vulnerable people, especially the elderly
Do not throw items like eggs and flour - this is not a trick and can be classed as criminal damage or even assault.
For more information, please contact Broxtowe Borough Council on 0115 917 3356 or email spc@broxtowe.gov.uk or visit www.broxtowe.gov.uk
---
---