Broxtowe Borough Flies The Flag To Honour Merchant Navy
02/09/2022 - Broxtowe Borough Council marked Merchant Navy Day by raising the Red Ensign flag in a special flag raising ceremony on Friday 2 September 2022.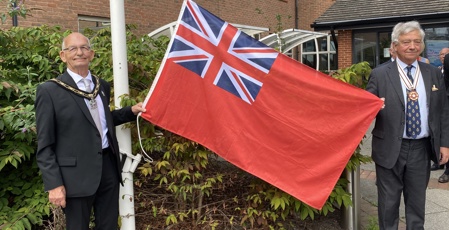 Mayor of Broxtowe, Councillor David Grindell, was joined by Deputy Lieutenant Liell Francklin to raise the Red Ensign flag outside the Council Offices in Beeston. They were also joined by other guests including Leader of the Council, Milan Radulovic MBE and Darren Henry MP.
The UK's designated Merchant Navy Day takes place tomorrow (3rd September 2022).
Hundreds of places across Britain are taking part in Seafarers UK's Fly the Red Ensign campaign, to honour the brave men and women who kept our nation afloat during both world wars, and to celebrate the modern day Merchant Navy seafarers who are responsible for 90% of the UK's imports, including half the food we eat.
Since the start of this century, 3 September has been the UK's designated Merchant Navy Day.
Our nation's dependence on the Merchant Navy is high, 90% of our imports are carried by ship. Without regular fuel imports our power stations would soon shut down. And with more sea ports and harbours and a longer coastline than any other European country, we depend on the Merchant Navy to ship more than 75% of our exports.
---
---