£10,000 Boost To Support Broxtowe Food Banks
£10,000 Boost To Support Broxtowe Food Banks
13/4/2023 - Food banks across Broxtowe Borough will get a £10,000 boost thanks to an extension of the Mayor's Appeal, which has been made possible by funding from the Efficiency East Midlands' (EEM) Cost of Living Crisis Fund.
Following a successful bid by the Borough Council to the fund, £10,000 has been awarded to donate items which the food banks can provide to their service users to help them keep warm and reduce their energy usage.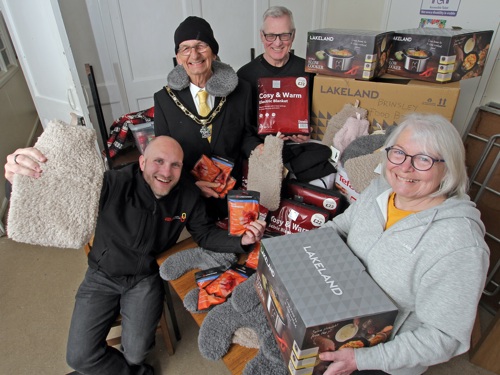 Items donated include air fryers, slow cookers, heated blankets and warm hampers made up of hot water bottles, gloves, hats and pocket warmers.
Mayor of Broxtowe, Councillor David Grindell said: "I'm delighted that EEM have awarded us this funding so that we can extend the Mayor's Christmas Hamper Appeal to a further 600 people.
The foodbanks and partners that we work with often tell us that whilst the support at Christmas is greatly valued, they receive a higher than usual level of support during the festive season and that it is often the first months of the year, when donations can slow, that their service users need further assistance.
This funding will help us to address this, with a person-centred approach on helping to keep people warm rather than spaces warm. We also hope to help people to reduce their energy bills and make their money go further, reduce health conditions exacerbated by the cold and improve stress and other mental health conditions which may be exacerbated by money worries."
Rebecca Dermody Simmons, EEM CEO said: "As a not-for-profit procurement consortium, our aim is to support the public sector in making cost and efficiency savings that will ultimately benefit communities. In response to the urgent cost of living crisis, we felt it was important for us to continue this support by launching this emergency fund.
Broxtowe Borough Council made sure to apply for a donation that could be utilised through their existing channels, ensuring efficient distribution of aid directly to those who require it the most. I hope that together, our efforts have made a significant positive impact, and we look forward to continuing to support the communities in Broxtowe in the future."
For more information, contact Broxtowe Borough Council on 0115 917 3210 or email civic@broxtowe.gov.uk
---
---