Clean sweep for Safer Streets
14/04/23 - A clean-up day that shifted a massive 3.6 tonnes of waste has made Eastwood's streets cleaner and more appealing.
The environmental improvement operation was carried out by Broxtowe Borough Council as part of the Safer Streets initiative, which aims to prevent neighbourhood crime and antisocial behaviour and violence against women and girls.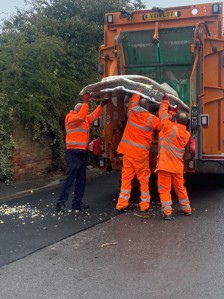 It comes as part of a wider package of investment in measures to make public spaces safer, after the Office of the Police and Crime Commissioner for Nottinghamshire secured £3 million from the Home Office's Safer Streets fund for projects across the county last year.
The clean-up day was carried out over two-and-a-half hours in a small area within the boundaries of Mansfield Road, Nottingham Road, Princes Street and Wood Street, on Wednesday 5 April.
A waste freighter and two panel vans took away items ranging from mattresses, TVs and electricals to garden waste and general rubbish.
Police and Crime Commissioner Caroline Henry said: "Neighbourhood clean-ups like this not only make an area cleaner and brighter but also instill a sense of pride and make people feel safer.
"This action is just one of the measures we have been able to fund in Eastwood through the Safer Streets scheme. Other initiatives include CCTV and automatic number plate recognition cameras and upgrades to security at Victoria Street and Alexandra Street carparks."
Broxtowe Borough Council's Chief Communities Officer, Marice Hawley said: "The Borough Council is delighted with the response from residents in Eastwood who want to make their communities cleaner and safer for everyone. Together we want to create a community which residents are proud of and is safe and attractive for people to live and work.
"Upgraded CCTV cameras across Eastwood town centre are now in operation, including two new state-of-the-art mobile cameras which will assist the council in fly-tipping prosecutions to ensure that a small minority do not spoil the local area for others."
---