New Stapleford cycle training track open to the public this Bank Holiday weekend
New Stapleford cycle training track open to the public this Bank Holiday weekend
06/04/23 - A new cycle training track is now available for local children, young people, adults and families in Stapleford to enjoy.
The track, located on the Ilkeston Road Recreation Ground, is a fun and safe mini road network on which to learn and practice cycling safely.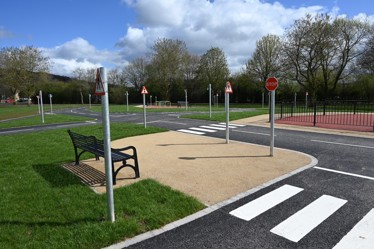 It is open and available to use 24 hours a day, seven days a week.
The track features a 200 metre network of mini roads, including road markings, zebra crossings, a roundabout and road signs. In addition, 600 metres of 3 metre-wide tarmac pathways have been built around the rec for more cycling and walking, which will open fully on Saturday (8 April).
The Cycle Training Track has been funded through the Stapleford Towns Fund's £4.6m Safer Cycling Scheme which aims to enable more people to travel sustainably through three key projects:
Phase 1 - The Stapleford Cycle Hub on the Ilkeston Road Recreation to provide free bicycle repairs, servicing and cycling advice to local people.
Phase 2 - The Cycle Training Track for cycling practice and confidence building.
Phase 3 - The creation of 3km of new cycle paths around the town – construction dates TBC.
Chair of the Stapleford Towns Fund Board, Ian Jowett, said: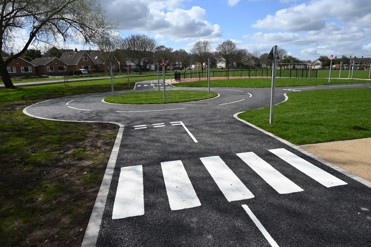 "We're so pleased that the Cycle Training Track is ready for local people to enjoy over the Easter holidays. The level of interest we've seen in cycling through our Cycle Hub has been huge and it's great to be able to build on this and give local people a brand-new local facility on which to have lots of fun practicing cycling safely."
For more information about the Safer Cycling Scheme watch this video https://youtu.be/kh8hOE1pphs(Open in a New Window). For more details about the £21.1m Stapleford Towns Fund, visit Stapleford Towns Fund : Broxtowe Borough Council.
---
---