An exciting project to develop a new skatepark in Stapleford starts this summer
15/08/23 - On Saturday the 19 August, join us at Hickings Lane Recreation Ground, Stapleford, (NG9 8PB), at the former skatepark site, from 1:00pm to 5:00pm. This free event will include beginners' skateboard coaching sessions alongside pop-up skatepark obstacles for all to use.
Consultation activities running at the same time will start engaging the local user community to work together towards a new facility at one of a number of potential sites in the town. Beginners' sessions will be at 1:30pm - 2:30pm and 3:30pm - 4:30pm, led by trained and experienced coaches, with a range of ramps, ledges and concrete curbs available for more experienced skaters to use at all other times. Skateboards and helmets will be available to borrow for free. Go to the Skate Nottingham website(Opens in a New Window) to reserve a free place at one of the two beginners' sessions, open to all ages 7+.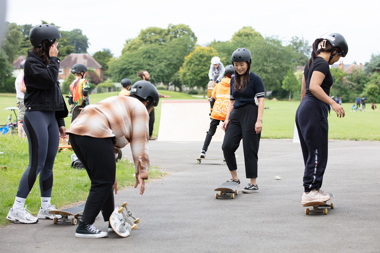 Skate Nottingham are really pleased to be working with Broxtowe Borough Council, alongside young skatepark campaigners, to help bring forwards a new, modern concrete skate facility in Stapleford. The project will start with this engagement event alongside an online survey to identify local skatepark users' priorities. This will then feed into a Crowdfunder UK campaign followed by more fundraising and design support, with the aim to achieve a new skatepark in Stapleford in time for skateboarding's second Olympic appearance at the Paris Games in summer 2024!
Skate Nottingham are one of the UK's leading skateboarder-led non-profit organisations, delivering coaching sessions, skatepark activation and large-scale events, educational workshops and design and development support for new skateparks since 2017. Recent skatepark projects include Rushcliffe Country Park and Lady Bay with Rushcliffe Borough Council and the landmark 'skate friendly' public space near Broadmarsh with Nottingham City Council. This new project with Broxtowe Borough Council is one of the first instances in the UK in which a Local Authority has supported and empowered skatepark users to take on a key role in every aspect of skatepark development, from fundraising, to community design consultation, to helping select a supplier, to ensuring the finished facility is positively utilised with a future programme of free events and coached sessions.
Complementing development in the town through the Stapleford Town Deal, this project will address the current lack of public skatepark facilities for young people and adults in the town and wider borough, following the closure of the original Hickings lane facility in summer 2022 as the outdated wooden and metal modular skatepark had reached the end of its functional life.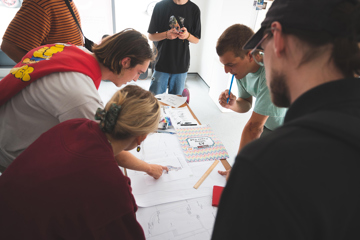 Darren Henry, Broxtowe MP said:
"I am very excited to see the proposal to deliver a new skatepark in Broxtowe. The park will be a great space, especially for our young people. I know there are currently a variety of places being considered and I am determined that as many people as possible have their say in the location of the park."
Ian Jowett, Stapleford Towns Fund Board Chair, said:
"The [previous] skatepark was really important for local children and young people and it's been a commitment of the Towns Fund Board to support the development of a new facility in our town.
"Skate Nottingham are experts in their field and we're so pleased they're leading this exciting project. We hope that lots of young people get involved in the free event to learn some new skills, keep fit and shape the plans for the future."
Leader of Broxtowe Borough Council and Portfolio Holder for
"The Council is very pleased to support this project to look at how new facilities can be developed for young people in Stapleford and it's great to see opportunities for young people to get involved in the development of the local area from the very beginning of a project. With Stapleford Towns Fund, this is a really exciting time for the town as it transforms into a better, brighter, Stapleford. No decisions have been made, so this is an opportunity for the residents of Stapleford to have their say, ensuring the right decision is made for the people of Stapleford following consultation.''
Photo credit: Tom Quigley / Skate Nottingham.
---