Come and give our Green Festival a green thumbs up
10/08/23 - Broxtowe Borough Council's Green Festivals are a great way to spend some time with the family while finding out about the ways in which we can all make small, simple lifestyle changes to reduce our carbon footprint.
The next free to attend festival will take place on Saturday 23 September at Coronation Park in Eastwood between 12.00pm and 3.00pm.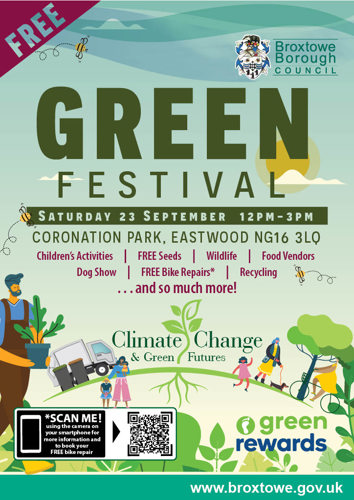 A wide variety of Nottinghamshire-based organisations and charities will be on hand offering a range of advice and activities to share how everyone can incorporate carbon-cutting actions in their everyday lifestyle.
Residents can get involved with activities they might not ordinarily try out including:
Meet your local bee keeper with the Nottinghamshire Beekeepers Association. Try on a beekeeping suit, learn why bees are so important and buy some local honey.
Learn to mend clothes so you don't have to throw them away in FREE mending workshops with Mary Broddle's embroidery for wellbeing.
Find out more about energy efficiency for homes with Green and Cosy Homes.
Get FREE bicycle repairs from Women in Tandem and FREE bicycle security marking from the Broxtowe Borough Council Safer Streets team. Please book ahead for a FREE bicycle repair session (Opens in a new window).
Join in with the dog show hosted by Broxtowe Borough Council's Neighbourhood Wardens. The check in desk will open at 12pm, with the shows due to start from 12:30pm.
Residents can also discover delicious, sustainable bites to eat with food vendors like Veggies, a volunteer led social enterprise that cooks tasty vegan snacks, favouring fairly traded and local sourced ingredients.
Portfolio Holder for Environment, Councillor Helen Skinner, said "Our Green Festivals are interactive. Climate change is such a serious issue but there are ways to learn more about it and the small changes we can all make to create a big difference, in a way which is fun for all the family. I'm really looking forward to meeting residents there and helping them to share in our ambitions to reduce our carbon footprint."
You can access Coronation Park via Plumptre Way in Eastwood. The rainbow one bus service and the 34 bus service which is run by Trent Barton also travel directly past the park. Please use sustainable transport if you can, but if you do need to drive, limited parking is available at Coronation Park.
You can find more details on the upcoming festival along with other future events visit our Green Festivals page (Opens in a new window) or contact the Climate Change Manager at environment@broxtowe.gov.uk.
---