Funfair Fun Times at Bramcote Hills Park
23/08/23 - Children and young adults with special needs enjoyed rides at the annual Peter Barrett Special Needs Fair at Bramcote Hills Park for free, thanks to the generosity of the fair owner Michael McKean, his fellow Nottingham Freemasons, the Showmen and Broxtowe Borough Council.
The event started in 2010 and excluding COVID, has been held annually since.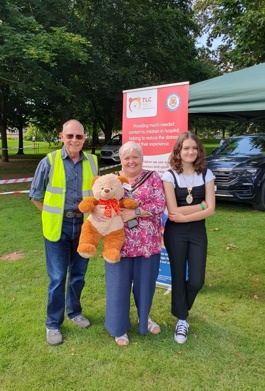 The Nottingham Freemasons send out invitations each year to different groups of children who are then issued with a special pass enabling them to attend on the day. The fair opened its doors early especially for the children and their families to experience the magic of the fairground before the official opening on Thursday 24 August. The Mayor of the Borough of Broxtowe, Councillor Teresa Cullen joined the children and met those involved in organising this wonderful day.
Having recognised the challenges faced by children with special needs at the fairground, the Nottingham Freemasons in partnership with Michael McKean worked on how to make it more accessible and remove some of obstacles encountered by these children. 
As well as experiencing the rides the children enjoy the usual hot dogs, burgers, candy floss and ice cream along with their siblings, all for free. Parents and carers, brothers and sisters of the invited children are also able to enjoy the rides for free, creating precious memories for all the family.
The event is organised and manned by Edwalton and St. Giles Lodges and funded by the Provincal Grand Lodge of Nottinghamshire and individual Lodge donations. The Showmen give their time on the day to make sure it is a safe and enjoyable event for all. Each child leaves with their very own Teddy bear as a memento, provided free of charge by TLC (Teddies for Loving Care) a Masonic Charity.
Broxtowe Borough Council who is responsible for managing and maintaining the award winning park made no charge for the fair to use the site as their contribution towards the event. 
 If you wish to know more about what Freemasons in Nottingham are doing then please feel free to visit their website at www.nottinghamshiremasons.co.uk(Opens in a New Window)
---