Kimberley Business Booster Grants: Find Out More At Business Grants Workshop
1/8/23 - Businesses in Kimberley interested in applying for the latest round of Business Booster Grants can get further information about applying and speak to Officers in the Economic Development Team at a Business Grant Workshop on 10 August.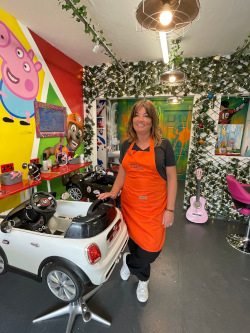 The event, which will consist of a presentation with questions, afterwards, will take place between 10.00am and 11.00am at Rumbletums Café, 2a Victoria Street, Kimberley, NG16 2NH and will give local businesses an opportunity to hear about the funding which is available in the second round of the grant scheme.
The scheme is part of the Kimberley Means Business Levelling Up project.  Grants of up £40,000 are available, which follows on from the Round One grants scheme in March 2023 and which saw over £30,000 in funding given to local traders. The purpose of the scheme is to enhance the aesthetic appeal of Kimberley, for both residents and visitors, developing people's pride in the town and attracting footfall in the town centre.
As well as Officers from the Council's Economic Development Team, a Business Support Advisor from Nottinghamshire County Council and a representative from the East Midlands Chamber of Commerce will also be there to offer advice and support to local businesses.
Leader of the Council and Portfolio Holder for Economic Development and Asset Management, Councillor Milan Radulovic MBE said: "In these tough economic times, we are committed to to supporting local businesses to thrive, helping to boost the economy, creating jobs and improving the area for the community. We have been really impressed by the commitment and ideas of the businesses who have already received funding as part of round one and I'd really encourage other businesses in Kimberley to come along to find out about how they could benefit and take advantage of the expert advice on offer." In these touch economic times we are committed to support local business. 
The session will be recorded and shared on the Council's website for anyone who is unable to attend.
For more information about the grant scheme, visit www.broxtowe.gov.uk/kimberleybusinessgrants
Pictured is Anne Hindley, from Kool Kidz Cutz on Main Street who received funding to help with set-up costs for her children's hairdressers. The grant helped Anna make her project a reality, by paying for greener water electric heaters and some of the decoration in the shop, including a 'grass' floor at the entrance.

---
---