Love your local parks? Broxtowe residents are being asked to help shape park improvements
24/08/23 - As part of the Pride in Parks initiative, Broxtowe Borough Council are asking for feedback on selected sites through the annual Parks and Open Spaces Survey.
Council employees like our Playground Inspector, Cliff, maintain and improve Broxtowe's spaces but they don't always know exactly what children want in their playgrounds. The Parks and Open Spaces survey gives everyone a chance to share their ideas with the Council, whether it's particular equipment for children or more seating for the adults.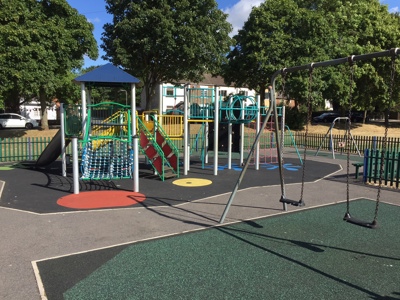 Councillor Helen Skinner, Portfolio Holder for Environment and Climate Change has said: "Everyone deserves access to our parks and green spaces. Please take this opportunity to let us know what you would like to see so that we can try to provide green spaces and play areas which benefit everyone in our community. These are your spaces, please help us to shape them and uphold the high standards we are proud of."
The selection of parks in the survey is determined through a regular cycle which ensures all of the Council's parks are surveyed over the course of three years.
The survey only takes a few minutes and asks residents to tell the Council how they feel about their local parks and open spaces by providing ratings on signage, cleanliness, facilities and the approach to nature and wildlife. Residents can have their say by completing the survey online (Opens in a new window).
This opportunity to listen is invaluable to the Council, especially in upholding the Broxtowe Parks Standard. This Standard is achieved by sites with high resident satisfaction, which this survey helps to evaluate.
The Council's dedication to maintaining parks has also been recognised this year with five parks and open spaces receiving the Green Flag award.
The survey will be open until 30 September 2023.
---