Residents asked for views on Bramcote Hills Park Improvements
10/08/23 - Residents in Broxtowe are being asked to share their thoughts on improvements at Bramcote Hills Park, one of the most popular green spaces in the Borough.
The site is home to a wide range of facilities including a cricket square, play area, trim trail, walled garden, Holocaust Memorial, ice house, interactive maze and local nature reserve, as well as being home to events like the annual Hemlock Happening.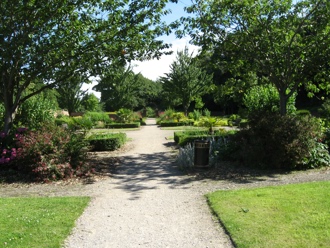 Residents can share their views on the Council's plans for improvements by completing a short online survey (Opens in a new window).
The results will be used to help design improvements and adjust management of the park to fit with what the Broxtowe community would like to see. Residents' views will be reflected in the management plan which will be updated next year to form the basis for management for the next 5 years. A good response to the consultation will also help to secure additional funding towards the work.
Portfolio Holder for Environment, Councillor Helen Skinner, said "As our largest park, Bramcote Hills Park is a vital area to the Borough. We understand that the park's facilities such as the play area and walled garden as well as its part in Broxtowe's biodiversity are important to our residents. As such, we would like to maintain the high standard already set and shown by the park's Green Flag award by continuing to improve the space. Please share your ideas so that we can make the park you want to see."
Bramcote Hills Park is one of 62 parks and open spaces Broxtowe Borough Council manages. It is also home to the Holocaust Memorial Garden, which was officially opened in 2001. It contains a striking statue created by Naomi Blake, herself a survivor of the holocaust. It is complimented by a series of information panels and a backdrop of plants that were chosen to provide colour and form at the time of the annual reflection ceremony.  A memorial service is held in the garden every year in late January.
For more information, visit our page on local parks and open spaces.
---