Step back in time at the D.H. Lawrence Birthplace Museum's open day
29/08/23 - Explore an authentic Victorian home and discover the life and times of Eastwood born writer, D.H. Lawrence as part of a special Heritage Open Day at the D.H. Lawrence Birthplace Museum on Sunday 10 September.
On the final day of the annual D.H. Lawrence festival and as part of the national Heritage Open Days, the D.H. Lawrence Birthplace Museum, on Victoria Street, Eastwood will be open on Sunday 10 September, from 10.00am-4.00pm to all guests, for free! Everyone is welcome to step back in time to experience the traditional Victorian wash house, see the parlour; a room only for special guests, feel the warmth of the fire in the kitchen and have a wander around the parental and other bedrooms.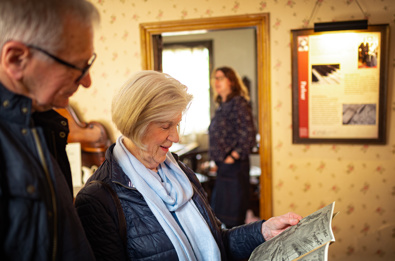 Mish Mash Productions' Pop Up Proms will also be performing a combination of jazz and classical music in the beautiful museum garden from 11.00am - 11.40am and 12.15pm - 1.00pm.
The museum's permanent exhibition features items from Lawrence's family and even paintings created by the author himself.
Also on display will be our two most recent exhibits: a photographic exhibition 'Celebrating the Volunteers of Eastwood' and 'A Portrait of D.H. Lawrence at Aldous Huxley's House, Suresnes, 1929'.
The Eastwood volunteer's exhibition is a series of photographs acknowledging and celebrating the important work carried out by volunteers to improve the lives of people living in and around Eastwood.
Our new portrait exhibit, which launches with the 2023 D.H. Lawrence festival, features the last known portrait of Lawrence, painted by Joep Nicolas at Aldous Huxley's house in Suresnes, France, 1929.
The annual D.H. Lawrence Festival returns from 1 September with ten days of free literature, art, music, heritage and community events.  Amongst this year's line-up are Heritage Open Days, pop up proms, the popular D.H. Lawrence Music Festival, guided walks, talks, lectures and a new portrait exhibition. The festival programme can be found at www.broxtowe.gov.uk/dhlawrencefestival  
The festival has been co-produced by the D.H. Lawrence Birthplace Museum, which is owned and managed by Broxtowe Borough Council, along with the D.H. Lawrence Society, Haggs Farm Preservation Society and Ben Mark Smith of the D.H. Lawrence Music Festival.
Find out more at www.broxtowe.gov.uk/dhlawrencemuseum
---