New £741k Library Learning Facility on the horizon for Stapleford
New £741k Library Learning Facility on the horizon for Stapleford
21/02/23 - An exciting project to create a new £741k educational facility for people in Stapleford will begin next month.
The Library Learning Facility project is one of six regeneration projects being funded through the £21.1m Stapleford Towns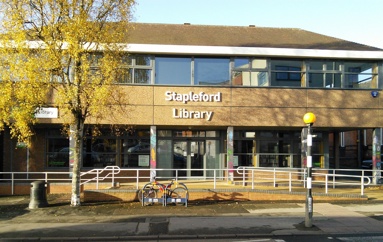 Fund.
The existing town library, owned by the County Council, and run by Inspire will be remodelled, creating more space for new entry level skills education and training, allowing residents with little or no formal qualifications to take their first step, within their local community, on their lifelong learning journey.
Inspire, which delivers culture, learning and libraries on behalf of Nottinghamshire County Council, aims to support up to 1,000 local people with new skills over the next three years as well as providing community and family learning opportunities.
The reconfiguration will be delivered by Inspire with the Arc Partnership, a joint venture between Nottinghamshire County Council and SCAPE formed in 2016 to support and develop their property portfolio.
Phase one will begin in mid-March to create three new training rooms opening in June 2023. The library layout will be updated to make way for the learning facilities but will still accommodate the same amount of book stock as well as computers, floor space for children and exhibitions.
Ian Jowett, Chair of the Stapleford Towns Board, said: "It's great news that our plans have been approved to improve the education and learning provision in our town and help our people fulfil their learning and earning potential. The library's a great local resource and this project will give it a new lease of life, making sure it remains at the heart of our great community."
Peter Gaw Inspire CEO commented: "We are excited to have this opportunity to improve education and learning for local residents to fulfil their learning and earning potential. We are delighted that we can provide three new learning spaces without compromising the library offer. We hope the new facilities will attract users new and old to use the space whether it be for learning, borrowing, events or community use."
Councillor John Cottee, Cabinet Member for Communities at Nottinghamshire County Council commented; "The development of new learning spaces and our expanded learning offer at Stapleford library is a great opportunity for local residents to improve their skills and wellbeing on their doorstep. With a focus on entry level skills, we hope to see lots of learners start their learning journey with Inspire improving their employment prospects."
During the closure starting 28 February until June, Stapleford residents can continue to use library services at any library across the county. The nearest libraries are Toton Library 1.8 miles, Inham Nook Library 2.9 miles, or Beeston Library 3.2 miles. From Monday 6 March, Toton Library's opening hours will be temporarily increased, visit inspireculture.org.uk/libraries for more information. Renew books online at: www.inspireculture.org.uk/catalogue
For more details about the Library Learning Facility visit the Stapleford Towns Fund website broxtowe.gov.uk/staplefordtownsfund, watch a short video on YouTube – search for 'Stapleford Towns Fund – Library Learning Facility'(Opens in a New Window) or visit inspireculture.org.uk/Stapleford(Opens in a New Window). Anyone interested in staying up to date with learning opportunities at the new facility should visit inspireculture.org.uk/emails(Opens in a New Window) and sign up to Learning – News and Events.
---