Celebrations as Stapleford Cycle Hub reaches 100th customer milestone
23/01/23 - More children, young people and adults in Stapleford are back on the road thanks to free bicycle repairs from the new Stapleford Cycle Hub, which celebrated its 100th customer this weekend.
In just nine weeks the team has helped over 100 people of all ages with bike repairs and advice, and received kind donations of 10 kids bikes and 15 adult bikes, which have been brought back to life and are being enjoyed by their new owners.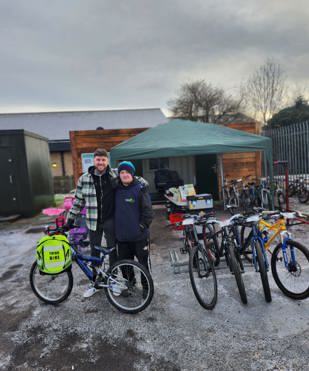 The 100th customer was Ashley Batchford who came along to look at a reconditioned bike for his eight-year-old son and became the 100th customer, receiving a free hi-vis backpack including £60 worth of free kit including a top of the range toolkit, cycle lights, a helmet and a pump.
Located at the Ilkeston Road Recreation Ground Car Park, the Cycle Hub is open every Sunday from 9am – 2pm, manned by a trained RideWise mechanic offering free repairs, servicing, route planning and general advice about cycling.
The Hub is part of the Safer Cycling Scheme for Stapleford, funded through the £21m Stapleford Towns Fund, which aims to encourage people to travel in a more sustainable way.
Helen Hemstock, RideWise Chief Executive, said:
"We couldn't be more pleased with how popular the Cycle Hub has been since we opened in November. There's definitely an appetite in the community to be more active and we love being able to help get people's old bikes back up and running, and help families and individuals enjoy all the benefits that cycling brings."
In addition to the Cycle Hub, the Safer Cycling Scheme will this year see the opening of a Cycle Training Track on the Ilkeston Road Recreation Ground in Spring - an open and accessible, safe mini road network for people of all ages to practice cycling and build their confidence – as well as work to create 3km of new cycle paths around the town.
---
---