Exhibition delves into D.H. Lawrence's difficult relationship with publishers
26/01/23 - An exhibition will open at the D.H. Lawrence Birthplace Museum next month, tracing the ways in which the Eastwood born writer found his writing amended and censored and how he found innovative ways to respond to this.
The exhibition, 'Editing D.H. Lawrence' will open in the Gallery Space at the D.H. Lawrence Birthplace Museum on 2 February until 27 May 2023.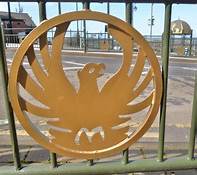 Lawrence is an iconic figure in English literature, but also one of the most controversial. He struggled with publishers throughout his career to express himself in the form he wanted and the exhibition showcases some of his unusual ways of overcoming this. Whilst Lawrence never gave up on mainstream publishing, he used private publications when needed. Lawrence also paid great attention to the design involved in his private publications.  He designed his own iconic phoenix emblem for the cover of some of his editions. That is why today, the phoenix emblem can be found all over Eastwood.
"Lawrence used printers in Paris and Florence to privately publish his more controversial work," said Carolyn Melbourne, Museum and Collections Officer at the D.H. Birthplace Museum.
"These days, authors can use the internet, they can publish digitally and through things like social media they can get their works and message into the public domain."
Andrew Harrison, Director of D.H. Lawrence Research Centre said: "This exhibition demonstrates Lawrence's belligerence before the censors and ingenuity in developing ways to get his voice heard, through private publication and negotiations with mainstream publishers."
'Editing D.H. Lawrence' is curated by Manuscripts and Special Collections and Dr. Andrew Harrison, Director of the D.H. Lawrence Research Centre in the School of English at the University of Nottingham, with contributions by Emeritus Professor John Worthen.
This is a second chance to see exhibition material curated for an exhibition at Nottingham's Lakeside Arts in 2022.
---
---