New Exhibition Celebrates Eastwood's Local Heroes
12/07/23 - A new exhibition opening at the D.H. Lawrence Birthplace Museum later this month, will celebrate the volunteers of Eastwood who help improve the lives of people in the local community.
"CELEBRATING THE VOLUNTEERS OF EASTWOOD" will open in the Gallery Space at the Museum, 8a Victoria Street, Eastwood on 27 July.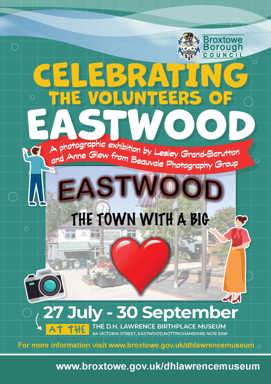 The exhibition will feature portraits from more than 30 local organisations, which have been taken by Lesley Grand-Scrutton and Anna Glew from The Beauvale Photography Group.
Speaking about the exhibition, they said: "We came up with the idea of creating an exhibition of photography, which acknowledges and celebrates the important work carried out by organisations and their volunteers to improve the lives of the people in our local community.  
Volunteering takes many forms, including management, administration, giving financial and legal advice, offering spiritual guidance, helping people who are suffering from physical and mental health issues, befriending the lonely and isolated, providing transport to doctor and hospital appointments, giving support to ex forces personnel, working with children and young adults, helping those who are homeless, helping people who are subjected to domestic abuse, working in charity shops, gardening and picking up litter, working in a food bank and serving meals, providing warm spaces, the list goes on...
The common denominator, in every case, is that so many people are willing to use their skills and experience and give up their precious time to help others in order to make a difference within society."
The D.H. Lawrence Birthplace Museum is where this literary legend was born on 11 September 1885. Only 30 minutes from Nottingham city centre, the Museum is a must see for fans of literature, and for those wanting to delve deeper into Nottingham's literary heritage.
Step back in time to experience the traditional Victorian wash house, see the parlour; a room only for special guests, feel the warmth of the fire in the kitchen and have a wander around the parental and other bedrooms. The museum's permanent exhibition features items from Lawrence's family and even paintings created by the author himself.
Find out more at www.broxtowe.gov.uk/dhlawrencemuseum
---
---