Olympic launch for cycling in Stapleford
03/07/23 - Team GB Olympic Gold Medal winner Chris Boardman MBE will officially open a new cycle training track in Stapleford today (Monday 3 July) as well as meet local school children to encourage them to cycle.
Part of the £21.1m Town Fund for the Nottinghamshire town, the track is a fun and safe mini road network on which to learn and practice cycling safely and is just one part of a £4.6million scheme which also includes a cycle hub and cycle paths in the town.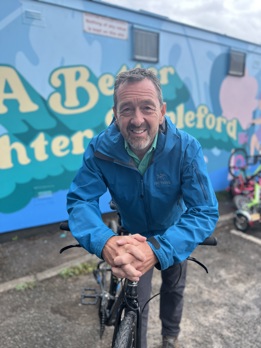 Open and available to use 24 hours a day, seven days a week, the track features a 200 metre network of mini roads, road markings, zebra crossings, a roundabout and road signs. In addition, 600 metres of 3 metre-wide tarmac pathways have been built around the rec for more cycling and walking.
Local school children are invited to the event where they will be given cycle bells to 'ring in' the opening of the new training track and they will see Chris take on a time trial around the cycle pathways. A brand new piece of street art, celebrating cycling, will also be revealed.
Chris is regarded as the godfather of global British cycling success which over the years has included multiple Olympic golds for men and women's teams, individuals and world records. Chris himself won Gold at the summer Olympics, 1992, set world records and claimed the yellow jersey on the Tour De France on many occasions.
He was named as National Active Travel Commissioner for the country by the Department of Transport last year.
Chris said: "Learning to cycle on our roads is a vitally important life skill so it's fantastic to see Nottingham investing in providing a dedicated track where young people can hone their skills. I look forward to visiting the track and seeing local kids having fun on it."
Broxtowe MP Darren Henry, who sits on Stapleford's Town Board, said:
"I am delighted as the Chairman of the Stapleford Cycle Network that after a lot of hard work, our Stapleford Cycle Hub and Training Track is open. We want a Stapleford where everything is within easy reach. We want to build a joined-up transport network for all, which enables more people to travel sustainably. This will promote better physical health and mental health; through the means of walking, wheeling and cycling. I am incredibly excited to see the track being enjoyed by our local residents and cannot wait to watch Stapleford's younger generation fall in love with cycling as I have."
Alongside the cycle training track on the Ilkeston Road Recreation Ground, is a very popular Cycle Hub operated every Sunday by Nottingham charity RideWise, offering free bike
services, repairs and bike sales, in addition to teaching children and adults how to ride a bike.
RideWise  aims to help people to get around through walking, cycling and greener forms of transport. Over the last year they've helped over 1,000 people through their bike workshop at Lenton Abbey Park, with bike repairs, bike loans, cycle lessons, volunteering and work experience. 
RideWise Chief Executive, Helen Hemstock, said:
"We're all really excited about the opening of this new cycle training track in Stapleford. Cycling has so many great health and environmental benefits, and we hope it will encourage the local community to get their bikes out of the sheds and try it out! Our trained mechanics and volunteers are on hand every weekend to offer free support to get people moving around in ways that are greener, cheaper and healthier."
---