New Stapleford Library and Learning Centre open for business
New Stapleford Library and Learning Centre open for business
28/06/23 - An exciting new educational facility has opened in Stapleford, offering new entry level skills education and training to local people.
The Stapleford Library and Learning Centre, owned by Nottinghamshire County Council and run by Inspire, is one of six regeneration projects being funded by the UK Government through the £21.1m Stapleford Towns Fund.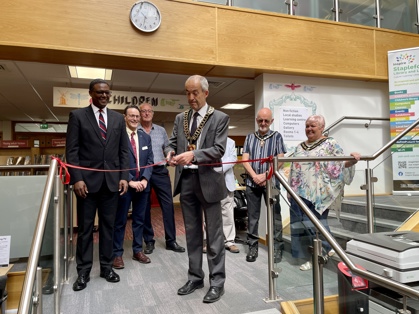 The first phase of the £741k project has created three new training rooms and an updated library layout which accommodates the same amount of book stock as well as computers, floor space for children and exhibitions.
A second phase will update the façade of the library building. Designs and timings will be shared as the project progresses.
Inspire aims to support up to 1,000 local people with new skills over the next three years as well as providing community and family learning opportunities, including:
Inspire Adult Learning will launch its programme of courses with the Stapleford Summer School in August. The FREE courses on offer include Arts and Crafts, Health and Wellbeing and IT and Digital Skills courses. 
September will see the educational facility in full swing with the launch of the Inspire Adult Learning Autumn term with a range of courses in many subjects and the chance to achieve recognised qualifications.
Regular library events such as Rattle, Rhyme and Roll and Job Club will be reinstated along with other events including Health Information Week and the Summer Reading Challenge in July.
Darren Henry, MP for Broxtowe said about the development:
"I was delighted when our work to ensure Stapleford was awarded the Towns Deal from the Government came to fruition and was determined that some of that money went to skills and training. So, it is fantastic that this has now been achieved with the opening of the Stapleford Library and Learning Centre. It is my hope that constituents in Broxtowe utilise the plethora of new opportunities that the Centre will bring. I look forward to hearing, what I am sure to be many, success stories."
Ian Jowett, Chair of the Stapleford Towns Fund Board, said:
"Local people told us through our Towns Fund engagement that they wanted more opportunities for learning and developing skills. We've worked hard to find the best way to create this within the local community and I'm delighted to see Stapleford's brilliant new Library and Learning Centre open, exceeding our expectations with a modern, fit-for-purpose building that I know will help change the futures of many local people."
Peter Gaw Inspire CEO commented:
"Stapleford Library and Learning Centre is a fantastic opportunity to improve education and learning for local residents to fulfil their learning and earning potential. We are delighted that we can provide three new learning spaces without compromising the library offer. We hope the new facilities will attract users new and old to use the space whether it be for learning, borrowing books, events or community use."
Councillor John Cottee, Cabinet Member for Communities at Nottinghamshire County Council commented:
"We're proud to serve local residents and provide the best possible facilities and opportunities. This new centre will allow the local community to improve their skills and wellbeing on their doorstep.
"The facility will provide hugely beneficial access to education for many, with interactive, informative and enjoyable community and family learning opportunities that will equip residents with skills, knowledge and information that to help them in the classroom, in education and in day-to-day life.
"Our ambition for this new learning centre is to be a centre of excellence, providing a high standard of educational activity as part of our award-winning adult learning programme."
For more details about the Stapleford Towns Fund visit broxtowe.gov.uk/staplefordtownsfund, watch a short video on YouTube – search for 'Stapleford Towns Fund – Library Learning Facility(Opens in a New Window)'.
Visit inspireculture.org.uk/Stapleford(Opens in a New Window) for information on the new facilities, events and courses. Anyone interested in staying up to date with learning opportunities can follow Inspire Stapleford Library and Learning Centre on Facebook and sign up to receive Learning – News and Events emails at inspireculture.org.uk/emails(Opens in a New Window).
---