Broxtowe Borough Flies the Flag for the Commonwealth
13/3/2023 - Broxtowe Borough Council joined the 56 countries of the Commonwealth to fly the Commonwealth flag in the Borough, as part of the annual Fly a Flag for the Commonwealth Day.
The Mayor of the Borough of Broxtowe, Councillor David Grindell, Vice Lord-Lieutenant, Dame Elizabeth Fradd and students from Round Hill School raised the Commonwealth Flag in Beeston Square at a special ceremony at 10.00am on Monday 13 March 2023. A message from Commonwealth Secretary-General and a specially written Commonwealth Affirmation were read out at the ceremony before the raising of the Commonwealth flag.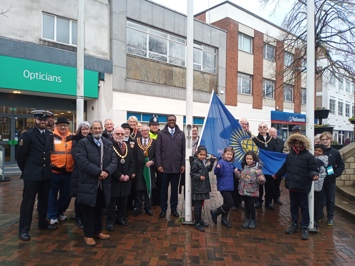 The theme for Commonwealth Day 2023 is 'Forging a sustainable and peaceful common future'. It signifies the active commitment of member states to collaborate on climate action, support the development of free and democratic societies, and the promotion of peace and prosperity to improve the lives of all Commonwealth citizens.
Commonwealth Day this year is very special as it marks the tenth anniversary of the signing of the Commonwealth Charter, which was signed by Her Late Majesty Queen Elizabeth II on 11 March 2013 and outlines the values and aspirations which unite the Commonwealth.
It is also the first Commonwealth Day since Her Majesty's passing, and the first presided over by His Majesty King Charles III as King and Head of the Commonwealth.
More than one thousand Commonwealth flag were raised in a shared celebration of this amazing family of nations that encompasses the globe. It was again catching the imagination of thousands of participants from all walks of life, inspiring them to join with others throughout the Commonwealth. As a collective public expression of commitment to the Commonwealth, it enabled participants to show appreciation for the values the Commonwealth upholds, and the opportunities offered for friendship and cooperation with fellow Commonwealth young and old citizens around the world.
For more information about the Broxtowe event, please contact Broxtowe Borough Council on 0115 917 3210, email civic@broxtowe.gov.uk or visit www.broxtowe.gov.uk
Visit https://thecommonwealth.org/commonwealth-day(Opens in a New Window) for more information about the Fly a Flag for the Commonwealth initiative.
---
---