More Stapleford people can reach their peak fitness goals thanks to Towns Fund grant
16/03/23 - A fitness centre in Stapleford is now able to offer cutting-edge body monitoring services and cardio equipment to its customers thanks to a £24k Towns Fund grant.
Peak My Body Fitness Suite, which opened on Derby Road in July 2022, offers more than a traditional gym through personal and semi-private fitness training, sports performance and endurance training and coaching.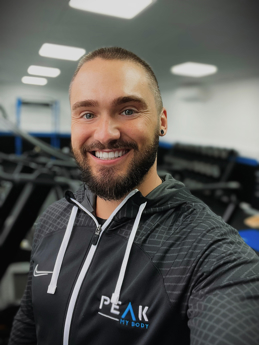 Services also include 'VO2 Max' physiology and metabolic testing, which measure a clients' lung capacity and metabolism to accurately tailor training plans and nutrition to get the maximum benefits for their individual needs. VO2 Max testing can also support people in their recovery from COVID-19.
The grant, made available through the Stapleford Towns Fund's Town Centre Recovery Fund scheme, has funded new cardio and leg training equipment, more dumbbells, a top-of-the-range resisted cable machine, a body composition scanner for people to see where they are losing body fat or gaining muscle, a new system to allow people to access the suite privately at times that suit them, and general redecoration of the suite, all of which has enabled the business to expand.
Peak My Body is owned and run by personal trainer and strength and conditioning coach, Mike Millers, 30, from Stapleford. Mike saw a gap in the town's gym offer to provide uniquely tailored training and fitness plans to help local people achieve their goals – from mums looking to get fit to sports people and athletes.
Trained in sports strength and conditioning, and research in sports performance, Mike offers a wealth of experience from personal training privately and at the University of Nottingham, and from his time spent in Texas, USA, working at Olympic athlete Michael Johnson's facility, coaching NFL American footballers NBA basketballers, collegiate athletes and children.
Mike said: "I'm so grateful for this grant as it has made a massive difference to my business. With the addition of this new equipment and the new private access, which I wouldn't have been able to fund for many years, I've been able take my fitness offer to the next level, which will lead to more clients and the recruitment of more personal trainers to my team."
---