Popular Stapleford sports bar gets fresh new look with Towns Fund grant
23/03/23 - A Stapleford sports bar and live music venue is having a makeover thanks to grant funding from the Stapleford Towns Fund.
Larry's Number One Bar on Derby Road, popular for live sports, music and events, is owned by landlord Lloyd Mason who opened the bar in the former HSBC building on Derby Road in 2014 to bring an exciting new night time venue to the town.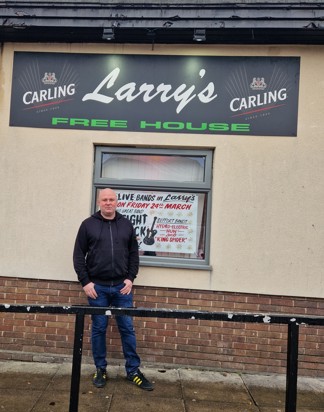 Lloyd applied to the Towns Fund's Recovery Grant Scheme for £50k to fund much-needed work to bring the building up to modern day standards in appearance and accessibility.
The Recovery Grant scheme aims to support town centre businesses to recover from the impact of the pandemic, and Larry's is one of over 70 businesses to benefit from a share of the £1m fund.                                                                           
Alongside co-funding of £20k, significant improvements are being made to the building with new entrance doors, signage, windows and better disabled access, roofing, rendering, plumbing and heating improvements, redecoration and new seating, toilets, lighting and kitchen inside.
Lloyd, known locally as Larry, said: "It's been tough over the last few years with stock shortages, delays on orders and ever-changing pricing. We're really lucky to still be going when many other local businesses have had to close.
"Larry's Number One Bar is a local venue and we want it to be the very best for our customers. We're really grateful for this grant as it means we can do this work now – a huge boost to our business."
He added: "Stapleford needs investment like this – it's long overdue – and this grant scheme is already helping to smarten up our high street and give businesses a better chance of success."
Ian Jowett, Chair of the Stapleford Towns Board, said: "Larry's Number One Bar is a great, thriving business run by a local man who has invested in Stapleford for many years.
"We are pleased to be able to support the businesses with funding for work that will improve the look and feel of the town visually, and create a much more accessible, modern bar for local people to enjoy too."
The work at Larry's Number One Bar will also have a positive impact on jobs and employment.
Lloyd added: "The work we're doing will help us attract new customers which will safeguard the jobs of our current nine staff, and lead to more staff in future. More customers also mean more business for our local suppliers - so this is good news all round for Stapleford."
The £1m Town Centre Recovery Fund (which closed on 31 January 2023) is one of six projects funded through the £21.1m Stapleford Towns Fund, part of the Government's £3.6bn Towns Deal.
---