Towns Fund grant secures the future of Stapleford's oldest shop
15/03/23 - One of the oldest shops in Stapleford, Rowells, is looking ahead to a bright future thanks to a £32,800 Towns Fund grant for much needed repairs and improvements.
The haberdashery, curtain, bedding and clothing store, located at 36 Derby Road, has been on the town high street for over 120 years, run by three generations of the Marshall family from Nottinghamshire.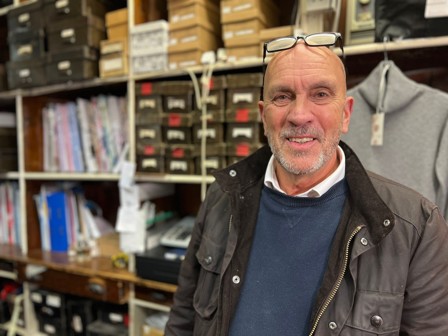 Over the last few years, however, the building's hundred-year-old shop frontage and windows have begun to deteriorate, needing urgent and costly repairs that its owners have been unable to afford due to the pandemic.
Owner Chris Marshall, said: "We're proud that Rowells has been in the Stapleford community for so long, which I think is because we've never compromised on quality, have friendly staff and offer things that people want and can't get elsewhere.
"We really want to carry on for another 120 years but the downturn in business over the last few years has meant we've just not had the money to spend on the repairs our building needs."
The grant will fund double glazing and a new awning to the shop front to protect the building, new flooring, ceiling improvements and electrical works. Work is expected to start in the coming weeks.
The Rowell's grant is one of more than 70 grants to be awarded through the Towns Fund's £1m Town Centre Recovery Fund.
Speaking about what these improvements will mean, Chris added: "We want to make our shop as appealing as possible for our customers, bringing it up to modern day standards, but retaining the building's period charm.
"This grant will mean we can display more stock that appeals to more age groups with a better appearance which will help grow our business and bring more people to shop in our town. Being more energy efficient through double glazing will also make a massive difference to our running costs.
"This Towns Fund grant will make all this possible and we couldn't be more grateful."
Ian Jowett, Chair of the Stapleford Towns Fund Board, said: "Rowells has been a feature of our town's high street for generations and we're pleased that this grant will help with the vital repairs and improvement work that it needs to preserve the building and safeguard the business for many years to come."
"It's great that so many property owners have come forward to utilise this grant to improve their tired buildings, as improving the street scene is critical in attracting new businesses to open in the town's vacant buildings."
The £1m Town Centre Recovery Fund (which closed on 31 January 2023) is one of six projects funded through the £21.1m Stapleford Towns Fund, part of the Government's £3.6bn Towns Deal.
---
---