Who are you going to call? Gum Busters!
20/03/23 - Move over Ghost Busters, the Gum Busters have arrived in Broxtowe to help tackle chewing gum litter, as part of a Government funded Chewing Gum Task Force.
The Gum Busters will be taking to the Borough's town centres for the first time to mark Keep Britain Tidy's annual Great British Spring Clean which runs from 17 March to 2 April.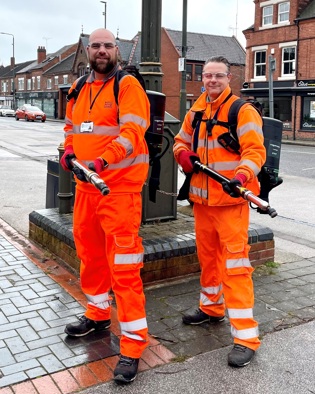 The Gum Busters will be using new gum cleaning equipment which removes stains using an eco-friendly detergent made from sugar beet. This is heated and squirted directly onto the gum to quickly vaporise it. Unlike jet washers, these machines cause little disruption so there is no need to cordon off pavements while they are in use. Now when you see gum stains in the neighbourhood, you know who we're going to call on to remove them.
New pink gum bins and signage encouraging residents to be responsible and dispose of their chewing gum rather than littering have also been installed in the Borough's four town centres. The bins themselves are made from waste gum, ensuring the gum is recycled efficiently and responsibly. The new signage has previously contributed to reductions in gum littering up to 62% according to Keep Britain Tidy's previous evaluations.
It's not just chewing gum litter that the Council is keen to tackle though. Litter picks will be taking place across the Borough during the coming weeks and the Council would love to hear from anyone who would like to help us to keep the local area clean and tidy by joining our wider Community Clean Teams.
Our Neighbourhood Wardens will be running a community litter pick for the Great British Spring Clean at Brinsley Recreation Ground on Saturday 25 March at 11am. All gloves, bags and litter pickers will be provided. Please contact the Neighbourhood Wardens on 0115 917 7777 or email neighbourhood.wardens@broxtowe.gov.uk if you require any further information.
Alternatively, if you'd like to organise your own event, we can help by loaning equipment. We will also arrange the collection of the waste when the event is finished. Our resource pack which provides everything you need to organise your event is also available. You can find out more at www.broxtowe.gov.uk/cleanandgreen.
More information about the Spring Clean can be found at www.keepbritaintidy.org(Opens in a New Window).
---