Headstone Restoration Pays Tribute To Lawrence Legacy
Headstone Restoration Pays Tribute To Lawrence Legacy
11/05/23 - Local people have paid tribute to Eastwood born writer D.H. Lawrence, following work to restore the headstone at the Lawrence family grave in Eastwood cemetery.
The restoration has been funded by the D.H. Lawrence society, with a £200 contribution from Broxtowe Borough Council, who own and manage the nearby D.H. Lawrence Birthplace Museum.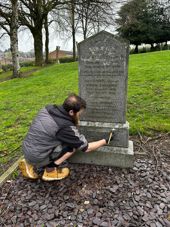 Local people are invited to join members of the society and representatives from the Council for an official unveiling of the new headstone on Saturday 20 May, meeting at the D.H Lawrence Birthplace Museum at 8a Victoria Street at 3.00pm.
Dr Andrew Harrison, Director of the D.H. Lawrence Research Centre said: "The Lawrence family grave in Eastwood Cemetery is an important landmark in the town, commemorating not only the author's life but that of his brother William Ernest, who tragically died of erysipelas in 1901 at the age of twenty-three, and the lives of his mother and father, who died in 1910 and 1924 respectively. The D. H. Lawrence Society is proud to have contributed to the upkeep of it."
Alan Wilson, Chairman of the D.H. Lawrence Society added: "We are thrilled to have this monument restored so beautifully, serving as a visual symbol of the legacy of D.H. Lawrence, his family, and a close connection with the Eastwood heritage."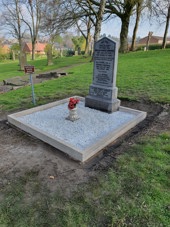 Carolyn Melbourne, Museum and Collections Officer at the Birthplace Museum said: "We're really pleased that we have been able to assist in the restoration of the Lawrence family grave. Many of the people who visit us at the museum go on to explore the wider Eastwood area to see the places that Lawrence wrote about in his works and this includes visiting the grave. Having it restored is a tribute to the legacy that Lawrence continues to leave in the town, county and across the world."
The D.H. Lawrence Birthplace Museum is where this literary legend was born on 11 September 1885. Only 30 minutes from Nottingham city centre, the Museum is a must see for fans of literature, and for those wanting to delve deeper into Nottingham's literary heritage.
Step back in time to experience the traditional Victorian wash house, see the parlour; a room only for special guests, feel the warmth of the fire in the kitchen and have a wander around the parental and other bedrooms. The museum's permanent exhibition features items from Lawrence's family and even paintings created by the author himself.
Find out more at www.broxtowe.gov.uk/dhlawrencemuseum (Opens in a new window).
---