1800 trees to be planted in Archers Field Recreation Ground
20/11/23 - Broxtowe Borough Council has begun work at Archers Field Recreation Ground in Stapleford to create two new woodland copses, with temporary fences being built to protect the young trees until they establish.
The planting work has been funded through Trees for Climate, a DEFRA government grant scheme administered by the Greenwood Community Forest team at Nottinghamshire County Council.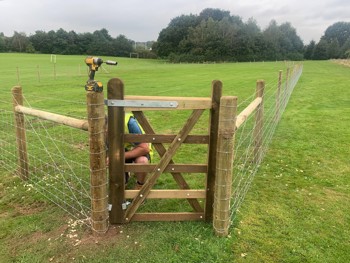 Broxtowe Borough Council are planting 1800 trees this month in the new fenced areas. The trees that will be planted are native woodland species, including Oak, Birch and Maple. They will provide habitat for local wildlife and help capture carbon from the atmosphere.
An avenue of large Lime trees will also be planted, forming a vista towards the Erewash Valley.
Portfolio Holder for Environment, Councillor Helen Skinner said 'This is an excellent project which could help to capture 1800 tonnes of carbon over the trees' lifetimes and support our efforts to tackle climate change. The selection of native trees will provide natural habitats and be a beautiful addition to Archers Field Recreation Ground, adding to the wonderful features the space already boasts.'
Woodland Creation Project Manager at Greenwood Community Forest, Nick Tucker said 'We're proud to enable the delivery of the programme at Archers Field Recreation Ground to plant 1800 trees through the provision of a grant through Trees for Climate. The scheme helps to create more woodland which is beneficial to the environment, helps capture carbon and supports biodiversity.'
Additionally, to ensure the site is safe and accessible for users, path improvements have been undertaken at Archers Field Recreation Ground.
A path made from consolidated stone which regularly washed out during heavy rain has been resurfaced with 100m of tarmacadam surface. The tarmacadam surface has made the path safer and more resistant to washing out so that everyone can enjoy the green space regularly.
Broxtowe Borough Council is committed to tree planting and habitat creation as part of the Green Futures and Climate Change Strategy. You can find out more by reading the Climate Change and Green Futures Strategy 2023-2027(.pdf) (5mb) (Opens in a new window).
Greenwood Community Forest in Nottinghamshire is one of 13 community forests in England. You can find more information about Trees for Climate on the website (Opens in a new window).
---
---