£45,650 investment in Eastwood sports and cycling
13/11/23 - £45,650 is being invested in sports and cycling initiatives in Eastwood to help people live well and connect in the community.
The projects have been funded thanks to Broxtowe Borough Council's UK Shared Prosperity Funding (UKSPF).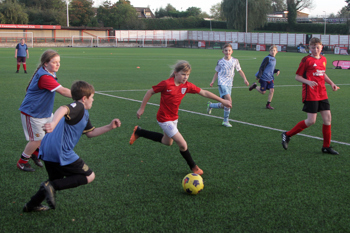 At Eastwood Community Football Club, a £14,900 grant has supported Nottingham Forest Community Trust to run football sessions for young people. The sessions have given them a chance to play football, socialise with other children and be active, as well as enabling families to be engaged about other local services such as Council services, foodbanks, mental health and wellbeing.
School holiday activities have also taken place, providing children with exciting activities, including football, multi-sport, and other games, all while ensuring they receive a healthy meal at every session. Sessions are all run by qualified coaches who provide guidance and support to children of all skill levels. The coaches encourage children to develop their skills while having fun, which promotes physical fitness and enhances their self-confidence.
Karen Swan, Head of Community Engagement at Nottingham Forest Community Trust said: "Nottingham Forest Community Trust is thrilled to be a part of the initiative in Eastwood, made possible by the support from Broxtowe Borough Council's UK Shared Prosperity Funding. Our commitment to promoting community wellbeing and engagement is reflected in the football sessions and school holiday activities we've been able to provide. These programmes not only encourage young people to be active, socialise, and develop their skills but also serve as a gateway for families to connect with essential local services. We remain committed to developing physical fitness, self-confidence and a sense of belonging within our communities."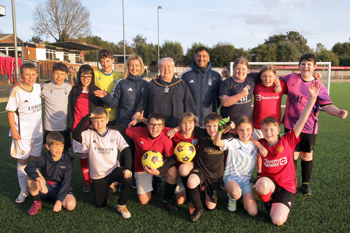 £10,000 has supported a project by Ridewise, a Nottingham based green transport charity, to offer free family-friendly cycling sessions, bike advice and basic services at The Pavillion at Coronation Park between April and September. The sessions include the loan of bikes and helmets so that children and adults can learn and improve their cycling, even if they don't have access to their own bike. These sessions have been such a success that a further £5,750 has been committed to keep them going over the winter. 
Finally, at Eastwood Cricket Club, a £15,000 grant has supported installation of a new two-lane fixed net practice facility. Invaluable in supporting more practice sessions, enabling the club's players to keep up with their competition.
Leader of Broxtowe Borough Council and Portfolio Holder for Economic Development and Asset Management, Councillor Milan Radulovic MBE said: "Sport is such a powerful tool in bringing the community together, engaging with young people, providing opportunities to learn new skills and encouraging active lifestyles. There is a fantastic grass roots sports community in Eastwood so these projects have been welcomed as a way of enhancing what is already on offer."
Over 30 projects which support the community and economic growth across the whole breadth of Broxtowe are benefitting from the first year of Broxtowe's UK Shared Prosperity Funding (UKSPF).
Find out more at www.broxtowe.gov.uk/sharedprosperityfund

---
---