66% reduction in burglaries reported in Eastwood thanks to Safer Streets
14/11/23 - A £250,000 investment in public space safety in part of Eastwood has helped achieve significant reductions in burglary, vehicle crime and antisocial behaviour.
Safer Streets interventions in the target area have included new CCTV and automatic number plate recognition cameras, car park security upgrades and free home security devices for burglary victims.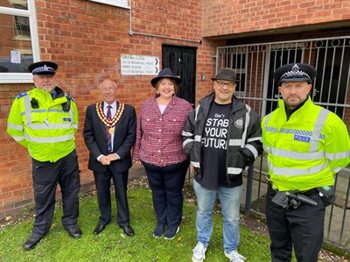 The measures have provided a boost to Nottinghamshire Police and Broxtowe Borough Council's on going work in the area and led to a 66% reduction in burglary, a 45% drop in vehicle crime and a 27% fall in antisocial behaviour.
This was in the 12 months from October 2022 when the project started, compared to the previous three-year average.
Eastwood's Safer Streets project was delivered by the Office of the Police and Crime Commissioner for Nottinghamshire, in partnership with Nottinghamshire Police and Broxtowe Borough Council, with funding from the Home Office.
Nottinghamshire Police and Crime Commissioner Caroline Henry said: "These reductions are absolutely brilliant and show that our targeted work is paying off.
"The additional investment Safer Streets has brought to Eastwood has been a real boost to the work that Nottinghamshire Police and Broxtowe Borough Council are already doing to make public spaces safer.
"As someone who was born and bred in this part of the county, I'm delighted with the successful outcome of this scheme that has made Eastwood an even safer place for all."
The key interventions in Eastwood that have helped make a difference include new CCTV cameras, including fixed and mobile cameras, and also cameras specifically for Scargill Walk flats to prevent antisocial behaviour and improve the safety of residents.
Scargill Walk flats also benefitted from a new door entry system to stop unwanted visitors in the communal stairways, as well as replacing the old metal grilles on the windows for new and more appealing double-glazed windows.
Public car parks in Victoria Street and Alexandra Street received security upgrades including CCTV which helped them pass a Park Mark accreditation, recognising them as safe places for people to leave their vehicles.
Two electric bicycles were also purchased for the local neighbourhood policing team. Officers said Police said they had been 'invaluable' in tackling drug dealing in Eastwood after being used to make seven arrests and make 11 stop searches.
The area also benefitted from new automatic number plate recognition cameras which give an instant alert to the police whenever they spot a car that is linked to criminality or vehicle offences.
Local burglary victims were offered free home security devices, such as video doorbells, CCTV and motion sensor lighting to prevent any further victimisation and help residents feel safer in their homes.
A number of clean-up days were also help to make neighbourhoods tidier and restore a sense of pride and safety in the area.
The most recent Clean Up Day in September was a huge success after more than 30 residents came out in full force to discard old furniture and unwanted items after three refuse vehicles were deployed to Princes Street in Eastwood, which allowed people in the surrounding area an opportunity to discard of unwanted waste.
Oliver Hawryluk, a resident of Princes Street, who has lived in Eastwood for over 40 years, praised the Safer Streets funded Clean Up Day, calling it 'incredibly important' for the local area.
Specific streets where the biggest impact was recorded was Scargill Walk, where antisocial behaviour fell by 88% - from an average of 16 incidents a year in the three-year baseline to just two occurrences in the intervention period.
Nottingham Road decreased from an average of 26 incidents to 16 incidents (-38%), and Princes Street decreased from an average of 10 incidents to just one report of antisocial behaviour in the intervention period (-90%). 
Councillor Helen Faccio, Portfolio Holder for Community Safety, said: "It's incredibly important people that people feel safe where they live and the Safer Streets projects have resulted in some very positive crime reduction figures for Eastwood.
"The decreases in anti-social behaviour, burglary and vehicle offences are testament to the targeting of both police resources and proven crime fighting tools, which the Safer Streets funding has enabled. I would like to thank the local police officers, and our partners, for their work in delivering the projects."
Eastwood was one of a number of areas to benefit from Safer Streets investment after the Office of the Police and Crime Commissioner secured a total of £3 million from the Home Office for projects across Nottinghamshire, which were delivered with police and local authority partners.
---
---