Songs wanted for international music project
14/11/23 - Musicians, bands, singers, choirs, songwriters, composers and ensembles are being invited to submit a chorus to contribute to our CCities song, as part of an international music project between Broxtowe and cities in Germany, Sweden, France and Poland.
To enter, simply submit your own 12 bar verse to the Blues in CCities, which is available at www.mishmashproductions.co.uk/ccities-song (Opens in a new window).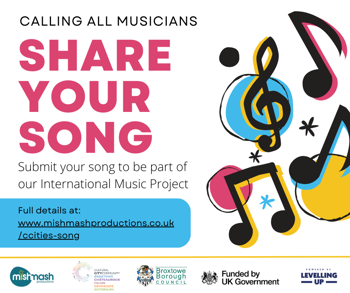 Anyone can submit a chorus, in any musical style as long as it sticks to these rules:
Must be recorded at 110 beats per minute
Must be 12 or 16 bars long
Must be in C Major ending on a G Major Seventh chord (to allow a loop round into the next contribution)
If you would prefer not to create your own piece, there is also the option to record your own version of a traditional folk tune to be part of the CCities mash-up.
Submissions are invited until the end of December 2023 and early in Spring 2024, a selection of participants will be invited to join a recording day to create the ultimate mash-up CCity Singalong recording!
Liz Muge, Artistic and Executive Director at MishMash Productions said: "We're thrilled to be working with Broxtowe Borough Council on the CCity programme. It's such an exciting opportunity to link up with different towns and cities across Europe. The CCity Song Project is one of a number of initiatives supported through the programme, enabling citizens of Broxtowe to get involved, this time sharing their musicality to create an amazing collective song celebrating our local community."
Local musician and member of the CCity Community Committee, Jeanie Barton said: "I'm excited to hear what people of all ages send in inspired by our county, I hope my example verse serves as inspiration for residents of all ages and we get a beautiful collage to edit and share with Germany, Poland, Sweden and France - the best of Broxtowe!"
The CCity project is a partnership between Broxtowe's twin town, Gütersloh in Germany and Falun in Sweden, Châteauroux in France and Grudziądz in Poland to share cultural activity across Europe on the themes of cinema, visual arts, music, theatre, sport, food and lifestyle, literature and history and custom.
Full details on how to enter a CCity song can be found at https://www.mishmashproductions.co.uk/ccities-song (Opens in a new window).
The project is being supported through Broxtowe Borough Council's UK Shared Prosperity Funding.

---
---