Volunteers Recognised at Broxtowe Voluntary Awards Evening
03/11/2023 - Nine volunteers have been recognised for their commitment and dedication to improving the lives of people in Broxtowe.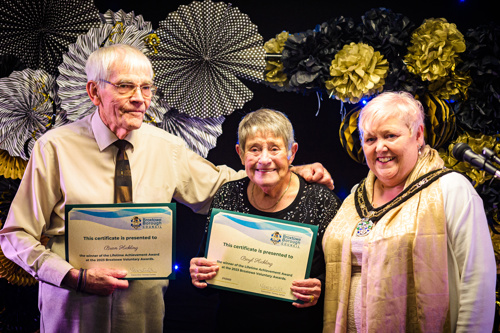 Brian and Beryl Hickling were awarded the Lifetime Achievement Award for their work with Elderberries, Greasley, a weekly club which provides opportunities for elderly residents to meet, share a cuppa and enjoy entertainment together. Brian and Beryl have been organising and facilitating the club for more than 25 years.
Other winners include:
Benefitting Broxtowe Award - Stephen Richardson
Stephen works hard to ensure the food banks of Stapleford and the wider areas of Broxtowe are fully stocked and supplied.
Community Hero Award – Marwa Soliman
Founder of Heya Nottingham, Marwa has devoted her time and resources too ensure that woman and families can participate in activities that foster a sense of belonging within and among the Arab community, as well as promoting cohesion with other groups.
Culture and Heritage Award - Marwa Soliman
As part of her work with Heya, Marwa has also been instrumental in ensuring the Arabic culture is celebrated and shared with British and other cultures.
The Green Futures Award - Heather Brunt
Heather has been instrumental in setting up Incredible Edible Beeston, a community group bringing Beeston together by reclaiming unused patches of land to grow food for everyone.
Sporting Volunteer Award - Adam Thomas
Adam and his team of coaches have reinvented football within Brinsley, coaching and hosting matches, as well as fundraising to help local groups get involved. This has included setting up an exchange for grown out football boots and kits to allow children to start playing football.
Youth Work Volunteer Award - Jaime Ellis
Jaime has been an officer in the Boys Brigade, Stapleford for over twenty years, giving up his evenings to help run the local branch, as well as acting as Vice Chair for Brigades in Nottinghamshire and hosting events for young people to participate in.
The Young Volunteer Award - Christopher and Emma Boneham
Christopher, 7 and Emma, 5 join their dad and other members of the Kimberley Big Clean Team to help pick litter in the local area. They have always had the option to stay home but every month they ask to join in and spend a couple of hours litter picking around Kimberley.
Mayor of Broxtowe, Councillor Teresa Cullen said: "There are so many wonderful volunteers across the whole Borough of Broxtowe and it is my absolute honour to be able to recognise some of them through the Broxtowe Volunteer Awards. Community spirit is alive and kicking in Broxtowe and our winners are evidence of that. I hope that their stories help inspire others to carry on their incredible work."
---
---