Over Two Tonnes of Rubbish Cleared Away Thanks to Safer Streets
06/09/23 - Residents were given the opportunity to get rid of tonnes of rubbish and unwanted items for free in a bid to clean up their area thanks to the Safer Streets programme.
The most recent Clean Up Day was a huge success after more than 30 residents came out in full force to discard old furniture and unwanted items.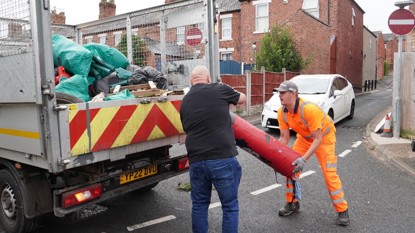 Three refuse vehicles were deployed to Princes Street in Eastwood which allowed people in the surrounding area an opportunity to discard of unwanted waste.
Oliver Haw a resident of Princes Street who has lived in Eastwood for over 40 years praised the Safer Streets funded Clean Up Day calling it 'incredibly important' for the local area.
"For the community it's great because we've got the D.H. Lawrence Museum up the road and a lot of people walk around here and they don't like to see tonnes of rubbish piled up," said Oliver.
"I think people need to respect what you're doing and not return three days or four days later to continue to fly-tip."
The recent Clean Up Day which took place on August 23 has been made possible after the Office of the Police and Crime Commissioner for Nottinghamshire secured £3 million of Home Office funding for Safer Streets projects that help reduce neighbourhood crime and antisocial behaviour, as well as violence against women and girls.
In Eastwood this additional funding has already resulted in seven new double street lights in previously dimly lit areas, 31 new CCTV cameras installed in key areas across Eastwood, as well as new electric police bicycles to aid officers when out on patrol.
Nottinghamshire Police and Crime Commissioner Caroline Henry said, "It's fantastic to see the work being done during the recent clean-up day in Eastwood, a place really close to my heart because it's where I grew up, I love this place."
"Clearing up litter and scrubbing off graffiti were just a few of the things done to make Eastwood look as loved as it deserves to look, and I'd like to pay tribute to the brilliant team who made this possible."
The Safer Streets programme is being delivered as part of an ongoing partnership between the Office of the Police and Crime Commissioner, Nottinghamshire Police and Broxtowe Borough Council, among other local authorities.
Councillor Helen Skinner, Portfolio Holder for Environment and Climate Change said: "Community spirit is one of the things that makes Broxtowe the place it is, so it's great to see residents doing their bit and working with us to tidy up the local area in this way to make it cleaner and safer for everyone.
Reducing crime and helping people to feel safe is down to so many different factors and Clean Up events like this one can have a real impact."
---