Stapleford businesses celebrate £1m high street revitalisation
26/09/23 - Local business owners are celebrating the success of a £1m grant scheme that has transformed Stapleford's high street.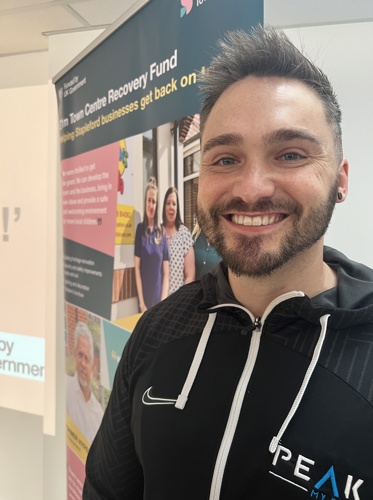 Through the £21m Government-funded Stapleford Towns Fund, 75 businesses have received a share of a £1m Town Centre Recovery Fund pot aimed at regenerating and revitalising the high street after the economic downturn of the pandemic.
Beneficiaries include Peak My Body fitness centre, Sewing Bee, Wake Cup Café, Millepede micropub, Larry's Bar, Rowells, Gurkha Nights, Affinity Dance School and Little Driver's Play Centre.
Grants have enabled external building and signage work to many businesses to modernise their premises and improve the look of the high street, as well as internal decoration, accessibility and energy efficiency improvements, equipment, furniture and marketing.
Business owners came together at the first of a series of business networking events last night (Monday 25 September) to share their achievements and network with each other and business experts from East Midlands Chamber, Nottinghamshire County Council and Broxtowe Borough Council.
Paul Sweeney, Vice Chair of the Stapleford Towns Fund Board, said: "Stapleford is a fantastic town with so much potential. This £1m fund was designed to boost the long-term prosperity of the high street and these grants, many co-funded by business owners, have not only made the town more visually appealing to residents, shoppers and investors, they've improved things like energy efficiency, accessibility and marketing, that will have a long-term impact too."
Mike Millers of Peak My Body, has benefitted from the grant and the Stapleford gym has been open to everyone who wants to improve their fitness, including a GB American football athlete and an up and coming teen boxer from the town.
Mike said: "The business grant has helped grow membership of the gym and install app access for members so they can come to the gym around their own schedules. It would have taken eight to 12 months to do this on my own, the scheme has been fantastic."
Darren Henry, MP for Broxtowe and Stapleford Towns Fund Board Member, said: "It was fantastic to meet so many local business owners and hear about the huge impact these grants have had on their businesses. Stapleford has a great community spirit which was very much evident at this networking event and I have no doubt that Stapleford has a prosperous future ahead."
---
---