Volunteers help preserve the building where D.H. Lawrence was born
14/09/23 - Volunteers have helped protect not only the legacy of Eastwood born writer D.H. Lawrence, but also learned new skills to help keep traditional craftsmanship alive, undertaking remedial works to the plasterwork at the D.H. Lawrence Birthplace Museum.
The volunteers took part in a training day, ran by Nottinghamshire County Council's Jason Mordan, Senior Practitioner Historic Buildings, to remove plaster which had been damaged by an excess of salts, causing the areas to dry out.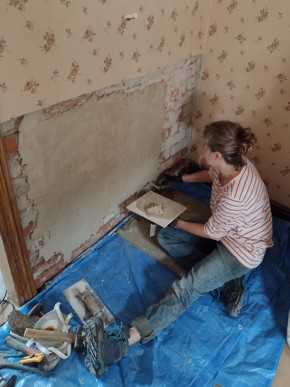 They then applied new lime plaster, a type of plaster which allows building to breathe by allowing moisture to evaporate, learning application techniques which have been used for centuries.
David Eason, one of the volunteers said: "I was fortunate enough to attend a skills session as a volunteer at the D.H. Lawrence Birthplace museum, focusing on lime plaster and mortar. Carolyn and Jason were very welcoming and the depth of knowledge regarding the subject was delivered in a very professional manner. The hands on experience and knowledge gained will be invaluable in my own quest to preserve my own historic building."
Oliver Hopgood also took part in the session and said: "Taking part in this project has expanded my knowledge of materials and the skills involved in historical construction and preservation. It has been very rewarding to learn about this traditional craft and to contribute to the conservation of a historical building."
Lime plaster is more flexible than modern cement-based plasters, which helps it withstand movements and settling in older buildings without cracking. It is also made from natural materials, primarily limestone and has a lower environmental impact compared to cement-based materials that require high energy inputs during production.
The volunteers will return for two further sessions to complete the works.
---