Queen's Platinum Jubilee
In 2022, Her Majesty The Queen will become the first British Monarch to celebrate a Platinum Jubilee after 70 years of service.
There are many ways that you can get involved in Her Majesty The Queen's Platinum Jubilee celebrations in Broxtowe and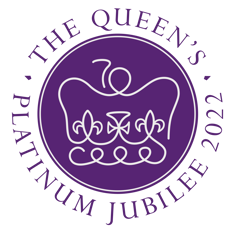 nationally.
Events in Broxtowe
Hemlock Happening
The Hemlock Happening is back with an extravaganza to celebrate The Queen's Platinum Jubilee, taking place over the Jubilee Bank Holiday weekend on Saturday 4th June from 1.00pm and the event will close with a finale firework display at 10.00pm.
The official programme will be will be available at www.hemlockhappening.org (Opens in a New Window).
For more event information, please contact the Liberty Leisure Limited Events team on 0115 917 3824, email events@lleisure.co.uk or visit www.lleisure.co.uk/events (Opens in a New Window).
Jubilee Events in Jubilee

| Event | When | Where | Cost  | Contact |
| --- | --- | --- | --- | --- |
| The Platinum Jubilee Beacon Lighting - Bagpipes from 9pm, beacon will be lit at 9.15pm and refreshments will be available. | Thursday 2nd June, 8.30pm | Chapel on the Hill |   | theclerk@kimberley-tc.gov.uk |
| Kimberley Picnic In Park - Brought to you by Kimberley Town Council, KICC and KMW F.C Picnic In The Park, with live music, swing dancers, classic cars, children's fun fair, hot and cold food, bar, ice cream van and stalls. | Friday 3rd June, 11am - 5pm | Stag Football Ground, NG16 2NB | Entrance fee £2, concessions and children under 16 £1, children under 5 are free | theclerk@kimberley-tc.gov.uk |
| Queens Jubilee Afternoon Tea - Afternoon tea fit for the Queen, for those 65 and over that reside in Awsworth, tea, cake, games and a good old sing song. | Friday 3rd June 2pm-5pm | Awsworth Village Hall | Free but must book tickets | Natalie on 07504556174 |
| Awsworth Picnic In The Park - Open to all Awsworth residents, bring your own picnic, blanket and chairs to enjoy celebrating with friends and family with a variety of activities, including a bouncy castle, tombola, children's crafts, target bowls, children's cricket and much more. | Sunday 5th June, 2pm | The Lane Recreation Ground | Free | Hayley 07913751484 |
| The Greasley Gathering 2022, a day for the whole family to enjoy with entertainments, music, food, stall, a small fair – lots to do and see. Two red London vintage buses will tour the Parish of Greasley – a hop-on, hop-off basis. | Sunday 5th June, 10.30am - 3pm | Greasley Sports and Community Centre, Dovecote Road, Newthorpe, Notts. NG16 3QN |   | admin@greasley.net/01773 688848 |
Share Your Memories
Do you have a memory with the Queen? Visited the Palace, attended a royal garden party, received a letter or birthday card from the Queen? Remember watching her coronation?
Well we'd love to hear your stories and see any photos that you have! You can share this with us through our online memories book or email your photos and stories us at press@broxtowe.gov.uk.
Street Parties
The UK has a long history of organised street parties to celebrate national events. Why not organise one for your neighbours for the Platinum Jubilee?
The UK has a long history of holding street parties to celebrate significant national events. Why not hold your own and bring together your local community across the bank holiday weekend?
Organising a street party for neighbours is very simple and does not require a licence. Please make sure you follow the Jubilee street party guidelines(Opens in a New Window), share the details of your event(Opens in a New Window), and tell us about your event(Opens in a New Window), if it will effect a road or pavement(Opens in a New Window).
Nottinghamshire County Council, in partnership with Via, will be charging no fees and will supply a set of signs for a 'standard' road closure free of charge.
While we'll do all we can to support the events, it is not always possible to close a road where access requirements need to be maintained, although we'll discuss alternatives.
As we're expecting lots of communities to get involved, please apply at least one month before the event.
Activities you can do at home
Official Events
Thursday 2 June
The Queen's Birthday Parade (Trooping the Colour) - Over 1,400 parading soldiers, 200 horses and 400 musicians will come together in the traditional Parade to mark The Queen's official birthday, usually held on the second Saturday in June. Beginning at Buckingham Palace, the Parade will move down The Mall to Horse Guard's Parade, joined by Members of the Royal Family on horseback and in carriages. The Parade will close with the traditional RAF fly-past, watched by The Queen and Members of the Royal Family from the Buckingham Palace balcony.
Platinum Jubilee Beacons - The United Kingdom's long tradition of celebrating Royal Jubilees, Weddings and Coronations with the lighting of beacons will be continued to mark the Platinum Jubilee. Beacons will be lit throughout the United Kingdom, Channel Islands, Isle of Man and UK Overseas Territories. For the first time, beacons will also be lit in each of the capital cities of the Commonwealth countries to celebrate The Queen's Platinum Jubilee.
Friday 3 June
Service of Thanksgiving - A Service of Thanksgiving for The Queen's reign will be held at St Paul's Cathedral. Further events will be announced in due course.
Saturday 4 June
Her Majesty The Queen, accompanied by Members of the Royal Family, will attend the Derby at Epsom Downs.
Platinum Party at the Palace - The BBC will stage and broadcast a special live concert from Buckingham Palace that will bring together some of the world's biggest entertainment stars to celebrate the most significant and joyous moments from The Queen's seven decade reign. Members of the public will be invited to apply to attend this special event and details of the ballot for UK residents to secure audience tickets will be released in due course.
Sunday 5 June
The Big Jubilee Lunch - Every year since the idea began in 2009 The Big Lunch has encouraged communities to celebrate their connections and get to know each other a little bit better, coming together in a spirit of fun and friendship. In 2022 The Big Lunch will bring the Jubilee celebrations into the heart of every community. People are invited to share friendship, food and fun with neighbours as part of the Platinum Jubilee celebrations. A Big Jubilee Lunch can be big or small - street party or picnic, tea and cake or a garden barbeque. The Big Lunch provides tips and ideas for hosting an event.

The Platinum Jubilee Pageant -  A pageant featuring over 5,000 people from across the United Kingdom and the Commonwealth will take place against the backdrop of 
Buckingham Palace and the surrounding streets. It will combine street arts, theatre, music, circus, carnival and costume and celebrate the service of Her Majesty's reign, as well as honouring the collective service of people and communities across the country.
The Queen's Green Canopy
The Mayor of Broxtowe, Councillor Richard MacRae led two tree planting ceremonies on Wednesday 23 and Thursday 24 February to show Broxtowe Borough Council's support to the Queen's Green Canopy initiative. You can read the full story in our press release.
Share your celebrations
We'd love to see pictures and hear about what you are doing to mark the occasion. Tag us in your on social media using #Platinum Jubilee #HM70 and #BroxtoweJubilee or email press@broxtowe.gov.uk
---
Civic Office
tel: 0115 917 3210
Corporate Communications
tel: 0115 917 3825
---