Heart 2 Heart Evening Support Group
If you have a heart condition or are caring for someone who does - come along to our local support group! All ages, all walks of life are most welcome. Grab a cuppa, have a Heart 2 Heart
Date
11/09/2019
Time
7:00 PM - 9:00 PM
This event will also happen on the following dates:
Wednesday 14 Nov 2018
Wednesday 09 Jan 2019
Wednesday 13 Mar 2019
Wednesday 08 May 2019
Wednesday 10 Jul 2019
Wednesday 11 Sep 2019
Wednesday 13 Nov 2019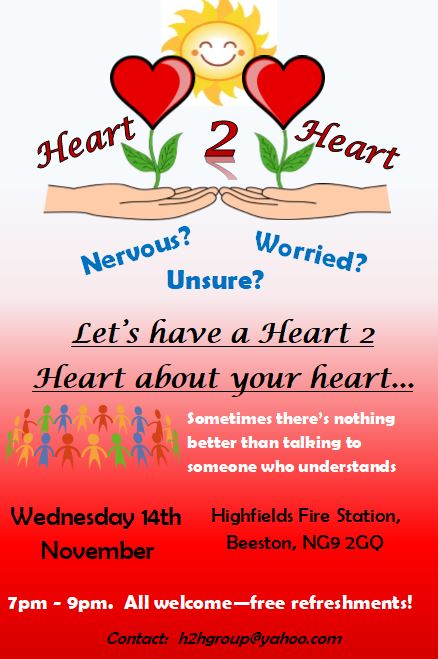 Description
Local cardiac support group for anyone suffering with a heart condition or those who are caring for someone who does. A chance to share stories, share advice with those in similar situations in a safe environment. We have specialist cardiac nurses from PICS at the meetings to answer any more in depth questions. Free refreshments are available.
Highfields Fire Station, Beeston, NG9 2GQ.
h2hgroup@yahoo.com
07772529899
Address
3 Derby St, Beeston, Nottingham NG9 2LG, UK
See on map
---