World War I Centenary
Information on commemorations in Broxtowe Borough to mark the end of the First World War.
In 2018, people across the World will mark the 100 year anniversary of the end of the First World War. Here you can find information about commemorations in the local area.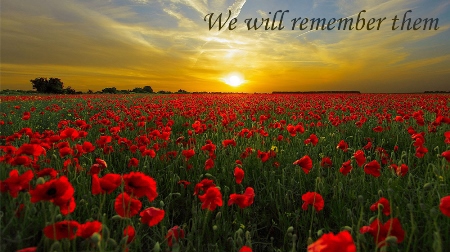 Events
See what commemorative events are taking place on our special World War I section on the What's On events calendar.
Local community and voluntary groups can also list their events on the calendar by completing the publicise my event form. (Opens in a New Window) Once submitted, the form will be sent to our Web Team to approve before it is published on the website and this is normally done within a couple of days of submission.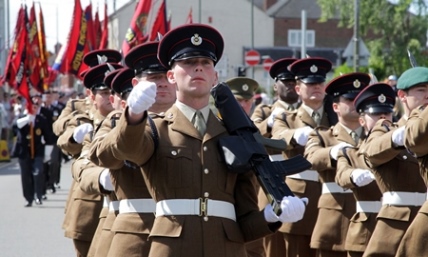 Freedom of Entry Parade 2018
Kimberley will celebrate Armed Forces Day with a special military parade as soldiers and veterans from 170 (Infrastructure Support) Engineer Group march through the town centre.
Find out more on our Freedom of Entry Parade webpage.
Book of Remembrance
Share your memories of loved ones who were alive during wartime or leave your thoughts and messages of remembrance in our online Book of Remembrance. (Opens in a New Window)
Stream of Poppies
Streams of poppies have been planted at Hall Om Wong Park in Kimberley, King George V Park in Bramcote and will soon also be planted in Mansfield Road Recreation Ground in Eastwood. When in flower, they will be a poignant visual memorial to those who lost their lives.
Nottinghamshire Great War Roll of Honour
Visit the Roll of Honour (Opens in a New Window) to search by name and location, or select to view people who died 100 years ago today.
The Nottinghamshire Community Commemoration Fund 2014 - 2018
To mark the 100 year centenary of The Great War, Nottinghamshire County Council has established the Community Commemoration Fund. 
Financial grants of up to £300 are available to local communities to help reflect on what the war meant for their local area and how the lives of people were changed forever.
Find out more on the Nottinghamshire Community Commemoration Fund webpages (Opens in a New Window).
Thank You Movement
The Royal British Legion is leading the nation this year in saying Thank You to all who served, sacrificed and changed our world. 
Find out more about the movement on the Royal British Legion's website. (Opens in a New Window)
---
---