Stapleford Town Deal
Information about the Stapleford Town Deal process and how residents, businesses and other stakeholders can get involved.
It was announced in September 2019 that £3.6bn is being made available to regenerate over 100 towns across the UK. Stapleford has been chosen as one of the towns to receive funding. Each town is set to receive up to £25m worth of investment in a number of areas.
The Government published a prospectus in October 2019 setting out the three areas of regeneration, the Towns Fund will focus on:
urban regeneration, planning and land use,
skills and enterprise infrastructure and
connectivity
More information on the Stapleford Town Deal
How will Stapleford get a Town Deal?
---
How will we get Stapleford a Towns Deal?
The Council, as the governing authority, convened the Executive Town Deal Board in January 2020. This Board to date has been working towards the creation and submission of Stapleford's Town Investment Plan (TIP). This plan will set out the vision, strategy and outline projects for Stapleford. Ultimately acting as a bid document to justify our funding request.
To offer wider discussion with interested parties, a Stakeholder Group has also been put in place. The role of this group so far has been to support the production of the TIP; feeding views, wants and needs for Stapleford in to the Executive board.
Alongside this we have consulted with local residents, businesses and other interested organisations as to their own ideas and the ideas generated by the two boards. This feedback has been processed and is reflected in the final TIP document. Due for submission by 29th January 2021, there will be further opportunities to feedback on individual project proposals after the TIP has been submitted to Government.
---
Project information and feedback opportunities
For the first phase of our consultation, we asked residents, workers and local businesses from Stapleford to think about ways to improve the area. It was asked suggestions were not limited to the town centre and rather looked at improving the whole of Stapleford. Where it was possible, we asked that any ideas submitted were aligned to at least one of the three Town Fund objectives.
The second phase of our consultation plans we asked residents, workers and local businesses from Stapleford and the wider area to comment on the ideas generated through the masterplanning exercise that has been carried out over the last few months. This took in to account the consultation at the beginning of the process as well as input from both boards. 
After extensive consultation with residents, businesses and other stakeholders, our master planning team have put together three proposed projects. More information on each project can be found below.
Project 1: Cycle infrastructure
To reduce usage of cars within Stapleford and to encourage the greater use of sustainable transport, we propose to improve and add to the town's existing cycle infrastructure.
The core plans include:
Connecting Stapleford to the National Cycle Network 67
Enhance/provide new cycle facilities in the town such as secure bike parking
Implement signage/wayfinding around the town to improve awareness of cycle routes
Implement a Cycle Network Route that connects the northern and southern fringes of the Stapleford to the Town Centre
Connect Stapleford to Toton Tram station and the future East Midlands Hub Station
Project 2: Town Centre Redevelopment
Reinvigorating the Town Centre, we propose to regenerate an existing building in the Town Centre into a multi-use development space. By creating a central focus in Stapleford with a diverse offer, we aim to encourage increased footfall and stimulate inclusive growth and prosperity.
This new development will provide space for:
Community activities, 
Small retail units,
Start-up businesses,
Food and beverage stores and
Public realm enhancements.
The nature of this development means we are able to adjust the offer depending on market demand and local need.  In addition, to increase accessibility and encourage footfall in the Town Centre, we propose to redevelop a currently underused building in to a flexible use site for market stalls and/or car parking spaces.
Providing a high quality, pedestrian-friendly Town Centre, we are looking to implement traffic calming measures within the High Street. We aim to encourage residents to travel into and around the Town Centre through sustainable forms of transport including through cycling or walking.
Project 3: Community Leisure Development
We propose to enhance the recreational offer in Stapleford. Providing space for community events and increase the current provision of leisure activities, we will provide a new, purpose-built pavilion facility.
The full scope of the proposed intervention includes:
A Community Leisure Hub
A learn to ride or pump cycle track
Adventure play area
Supporting the local area, the Community Leisure Hub will facilitate a range of community activity such as fitness classes, yoga, community exhibitions, dancing, club groups, elections, meetings and event hire. Additional facilities may include multi-purpose rooms, bar/café, kitchen, offices, computer room, cycle storage, changing rooms, supporting ancillary spaces.
MyTown Campaign
To facilitate ideas generation and ensure people have the opportunity to continuously feed into their respective Town Deal process, the Government launched the #MyTown campaign, which involves an online MyTowns portal (opens in a new window) for all stakeholders to access and leave their feedback. You are still able to leave your feedback via the link highlighted. 
---
Future milestones
The current timeline for TIP submission and further work on each project.
 

| | |
| --- | --- |
| Task | Date |
| Submit the TIP  | 29th January 2021 |
| Sign-off from central Government  | March-May 2021 |
| Work to commence on individual projects | March-May 2021 |
|   |   |
Further to these milestones, the Town Deal Executive board have a work programme with multiple opportunities for the public to directly input in to individual project development, post TIP submission to government.
---
Town Deal Executive Board
The Council have convened the Town Deal Executive Board inline with the Government published Towns Fund Prospectus. The inaugural meeting took place on Friday 10th January 2020. The board meets monthly by default. There was slight interruption due to changes in acceptable working practices in response to the Covid 19 outbreak. 
Future meeting dates for 2021 are as follows: 
Friday 26th February 
Friday 9th April 
Friday 21st May 
Friday 2nd July
Friday 13th August 
Friday 24th September 
Friday 5th November 
Friday 17th December 
NB: Meeting dates for 2021 to be agreed at January's meeting. These will be published once agreed by members at this meeting.
Meeting minutes and summary documents
Friday 10th January 2020
Friday 17th January 2020 
Friday 14th February 2020
Friday 13th March 2020 
Friday 1st May 2020
Friday 29th May 2020 
Friday 26th June 2020 
Friday 24th July 2020

Wednesday 12th August 2020 
Friday 4th September 2020
Friday 9th October 2020 
Friday 13th November 2020 
Friday 18th December 2020 

Minutes (pdf.) () (Opens in a new window)
Papers 
Further supporting information
Declaration of Interests - these are available upon request via economic.development@broxtowe.gov.uk 
---
The Town Deal area
On the announcement of the Towns Fund, the Government used the 'Stapleford BUASD' boundary provided by the Office of National Statistics, to initially define Stapleford. This is the geographic area to be represented by the Stapleford Town Deal board, where investments detailed in the TIP will occur.  
Click to download a copy of the Town Deal area plan - Stapleford Town Deal Area Plan (pdf.) (934KB) (Opens in a new window)
Click to view an interactive map of the Town Deal area. This map will see additional features added over the Town Deal process  - Interactive Map  (Opens New Window)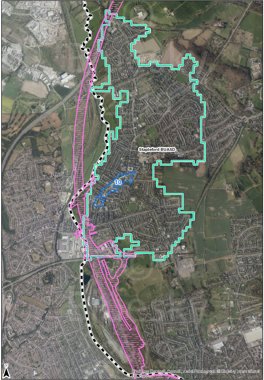 ---
---