Reconnect with local heritage
Learn about Broxtowe and Nottingham's history and heritage this winter.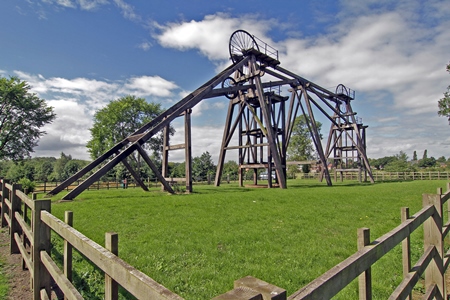 2020 has been the year of the staycation and whist we're unable to travel further afield at the moment, now is a great time to explore our local area and discover new things about Broxtowe and Nottingham.
There's lots on offer including, virtual events, heritage trails, blue plaques, exhibitions, D.H Lawrence online and lots of family activities. There really is something for everyone, whether you are after something to enjoy from the comfort of your own home or if you want to get out for some fresh air.
Here are just a few of the places you can look for heritage information.
D.H. Lawrence online
The Earth Museum, a not-for-profit organisation dedicated to building a global learning resource, has launched a new partnership with the D.H. Lawrence Birthplace Museum where you can find out more about the objects he owned and places he travelled. Through this portal, The Earth Museum also shares stories about D.H. Lawrence from its own unique archive.
https://theearthmuseum.co.uk/ (Opens in a new window)
Inspire Libraries
Inspire Libraries have a wealth of local historical information for you to view online, including the picture archive, online records, online exhibitions and even help to learn about your own family history.
www.inspireculture.org.uk/online/heritage/  (Opens in a new window)
www.inspireculture.org.uk/arts-culture/exhibitions/ (Opens in a new window)
Blue Plaque Trail
Find out about some of Broxtowe's famous sons and daughters by finding the blue plaques across the area
https://beestoncivicsociety.org.uk/blue-plaques-update-to-3lst-january-2014/ (Opens in a new window)
Nottingham Industrial Museum
The Nottingham Industrial Museum has information and articles you can read online to find out more about the city's history.
www.nottinghamindustrialmuseum.org.uk (Opens in a new window)
Parks and open spaces
Some of our parks and open spaces have a rich history.
Find out more about parks near you at www.broxtowe.gov.uk/parksnearme or information about local nature reserves here www.broxtowe.gov.uk/localnaturereserves
Canalside Heritage Centre
The aim of the Canalside Heritage Centre Charitable Trust has been to renovate and restore the weir cottages at Beeston Lock into sustainable use as a heritage, education and arts centre for all. 
www.canalsideheritagecentre.org.uk (Opens in a new window) 
Facebook pages
---
---