International Women's Day
International Women's Day
This year Broxtowe celebrated International women's Day alongside some excellent community groups and services.
Including, Broxtowe Women's Project, Heya Nottingham, Nottingham Poetry Festival (NPF) and Nottingham Justice Museum.  This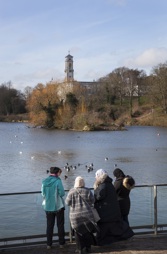 year's theme #BreakTheBias was marked through a word walk, a creative writing workshop during the Nottingham Poetry festival week and the creation of a Zine!
In line with celebrating women at all times, and the breaking of stereotypes, the events bring together the diverse community of Nottingham and allows space for women to showcase what it means for them to #BreakTheBias.
The word walk, hosted by Creative Director Anne Holloway from Nottingham Poetry festival and led by local Derbyshire Poet, Sophie Sparham was a refreshing morning at Lakeside which hosted women from Broxtowe Women's project and Heya Nottingham, to come together for a chance to write, reflect and share with one another their experiences and voices.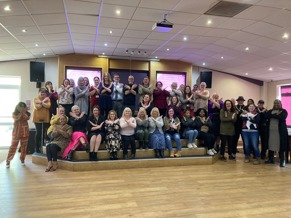 Broxtowe Women's Project, a project supporting Domestic Abuse survivors, who provide a confidential helpline, outreach service, training courses and drop in sessions, all aimed at empowering women and to help them survive domestic abuse, also hosted their own annual International Women's Day event, celebrating the creative opportunities that families have participated in during the last year. Alongside this, women have also come along to the word walk and been able to confidently share their voice and be a part of breaking the bias.
Heya Nottingham, a charity run by Director Marwa Solimon, supports the Arab community of Nottingham, including refugees and Asylum Seekers and is a proactive community group for women who partake in several events and workshops throughout the year. The group is led and supported by Marwa and volunteers of Heya in terms of organising events and providing language support as well.
Heya Nottingham, an asset to the women of the community has allowed for women to #BreakTheBias by giving them the space, the voice and the resources to develop and showcase their skills and contributions as women of power. Nottingham Justice Museum, partnering up with Heya Nottingham have amplified this voice for women continuously by offering services and workshops, and working together to bring together the women of Nottingham.
This year Broxtowe teamed up with Heya Nottingham and NJM for a creative workshop led by Poet Rebecca Summerscales and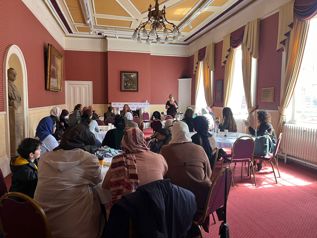 creative artist Clare Taylor. The workshop took place during Nottingham poetry festival week and brought together a diverse group of women from all over Nottingham, to write and share their own poetry and create a 'team umbrella' - filled with what it means to them to #BreakTheBias. The writing was free, expressive and without language boundaries making it a personal feel for each person. The women of Heya provided traditional Egyptian cuisine which was enjoyed by all the women as tradition, culture and women were celebrated in unity.
---
---