Beeston Square Redevelopment
Beeston Square Redevelopment
Information on the Beeston Square Redevelopment.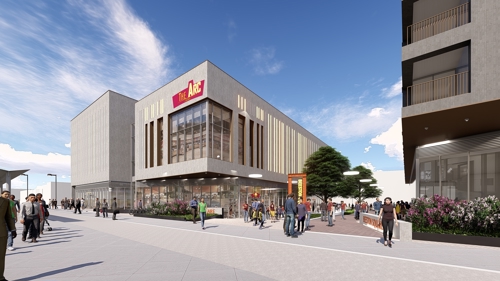 Work is well under way for Phase 2 of the redevelopment of Beeston Square.
The second phase will see an eight-screen cinema, as well as food and drink outlets and 132 new homes.
The project is also being supported by the D2N2 Local Growth Fund pt 3 N2TC Fund.
The development is being marketed by agents HEB Tel: 0115 950 6611 and JLL Tel: 0115 908 2120.
The scheme forms the second phase of a £50 million development, with Phase 1 including the refurbishment of the shopping precinct, new and improved public transport connecting the town to the NET tram network, more retailers, cafes and a gym.
The designs are available to view online:
---
The journey so far…
May – June 2015
Redevelopment of Phase 1 opened and a public consultation took place on initial plans for Phase 2.
May 2016
The Council purchased the leasehold interest of Beeston Square in a multi-million pound deal to help secure the future development of the town.
November 2017
Preparatory works began including preparing a planning application, finding a suitable developer for the residential part of the site and continuing negotiations with a cinema operator.

April 2018
Consultation on outline building plans, CGIs and initial designs.
May 2018
Two new businesses move into newly refurbished Phase 1 units and a planning application is submitted for Phase 2.
September 2018
Planning Committee unanimously granted full consent for the cinema and outline planning consent for the mixed-use and residential building.
February 2019
Arc Cinema secured as the operator of the eight-screen cinema which will be built as part of Phase 2.
October 2019
Bowmer + Kirkland announced as the contractor for the cinema and retail elements of the project.
November 2019
Work starts on site for the cinema and retail elements.
July 2020
Progress on the cinema has been slowed by the Coronavirus pandemic, which caused delays in the building work and the delivery of materials to site but it has been announced that it will be handed over to the operator before the end of the year, ready for fit out.
The Council is working on meanwhile uses for the remaining units on the site to provide activity and footfall, helping to get the cinema off to the best start and supporting existing businesses in Beeston town centre as they recover from lockdown.
October 2020
The stunning interior of Beeston's new cinema has been revealed in the latest graphics from the cinema's operator.
February 2021
Beeston's new deluxe cinema, the entertainment centrepiece of a £50m redevelopment, is on track to light up Beeston this summer, as the finished building is officially handed over to new owners, The Arc Cinema.
What's next?
Opening expected in summer 2021

Developer commences the residential element of the projects.

New jobs
Stay up to date with the latest cinema updates by following The Arc Cinema Beeston Facebook page (Opens in a new window)
---
Property Services
tel: 0115 917 3655
---