Waste and Recycling
Welcome to Broxtowe's Waste and Recycling page. We aim to help you understand more about waste and recycling within the borough. You can also find a list of our different services available to the residents of Broxtowe.
Recycling in Broxtowe
Recycling is collected from your kerbside and processed by the Materials Recovery Facility in Mansfield (Opens in New Window).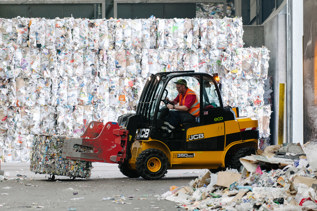 Materials are processed by product type, rather than codes.         
It is important to  put the correct items in the recycling bin.  A good guide to what goes in your recycle bin can be found on your recycling bin sticker.  Anything that is not listed on the sticker should be considered waste.  This will help reduce contamination.  Please see our recycling page for more information on what you can recycle (Opens in a New Window).       
The national target of recycling is 50% and we are working hard together with Veolia to achieve this by reducing contamination in recycling.  Did you know that 11% (based on random sample in 2019) of the items placed in recycling bins in 2019 don't belong there? Contamination means the contents of the recycling bin must all go to waste. The biggest contaminates we see are pizza boxes with grease or food traces, nappies, Tetra packs, glass, shredded paper and textiles. Please don't put these items in recycling bins as they cannot currently be recycled.
Not sure what goes in what bin?
If you're not sure what goes in what bin, you can use our A-Z of Waste and Recycling search (Opens in a New Window) to check.
Not sure when your next collection is?
Use our When Is My Collection Form (Opens in a New Window) to see when your next bin collection is. 
You can also text 60075 to check which collection is due that week.  Start the message with 'BROX NEXT' including your postcode and house number - i.e. 'BROX NEXT NG9 1AB 32', you will be sent a message back with details of your next scheduled collection.
'Each message sent is charged at the user's standard network rate although some inclusive network plans exclude messages to short codes and therefore prices may vary.'
How do I report a missed bin collection?
The easiest way to report a missed bin is online using our report a missed bin online form (Opens in a New Window).
---
---