Healthier Options Takeaway (HOT) Merit
Healthier Options Takeaway (HOT) Merit
Information on the Healthier Options Takeaway Merit Scheme run by Broxtowe Borough Council in conjunction with Nottinghamshire County Council.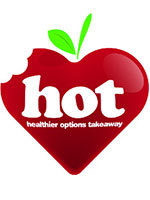 The HOT Merit aims to increase accessibility and awareness of healthier options in takeaway outlets and forms part of our approach to reduce obesity within Nottinghamshire.
Takeaways that become HOTs are committed to offering healthier ways of preparing, cooking or serving food and drink to their customer. It's not about fundamentally changing what you do but making small changes that mean your customers get a healthier choice. 
This can be achieved by:
cutting down on the amount of salt and sugar you put in a dish
letting fried food drain off oil more
changing your fridge display so healthier drinks are more prominent.
Find out if your local takeaway is a HOT (Opens in a New Window)
Why become a HOT?
Becoming a HOT could benefit your business as well as helping your customer eat more healthily. By being a HOT you'll receive marketing material for your restaurant/ takeaway to let your customers know that you're offering healthier options.
By making a few simple changes you could:
increase customer choice, satisfaction and sales
enhance the reputation of your business
receive a certificate and promotional material to display in premises
have your business included in our Healthier Options Takeaways website and database.
Become a HOT
Any business, who offers takeaway food in Broxtowe, with a food hygiene rating of 3 or more, is eligible to apply.
There is no charge for the merit and it will last for one year, or before if the takeaway has a change of owner or cuisine. Broxtowe Borough Council has the right to remove the merit if the food hygiene rating falls below 3.
To become a HOT you need to:
Download the self-assessment form 

(.pdf) (1.14MB) (Opens in a New Window)

and fill it in. For help completing the form see the downloadable guidance (.pdf) (318KB) (Opens in a New Window)
Return the assessment form to the health@broxtowe.gov.uk. Please make sure to attach any copies of menus with the form. We will score your form and if you have enough points you will be awarded the HOT status
You will receive a HOT certificate and other publicity material to display in your premises and be added to the HOT database on the HOT website. 
---
---