Stapleford Stories
Stapleford Town Deal Stories of Local Community Workers, Businesses and Residents.
A number of local community workers, businesses and residents have been asked to comment on Stapleford and the opportunity that the Towns Fund brings. 
'Charity boss praises friendly town full of potential' - Broxtowe Youth Homelessness, Jessica Brannan 
A town brimming with potential and full of community spirit is how charity manager Jessica Brannan describes Stapleford.
Having worked there for over seven years in her role as manager at Broxtowe Youth Homelessness, she says she has always been struck by the friendly nature and community spirit that exists.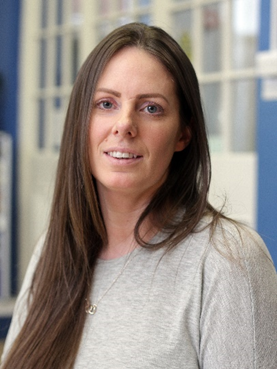 "It really has got a great community feel," she said.
"Whenever we need help or donations there is never a shortage of people that will come forward. We have a number of local people that regularly help out and want to get involved, and it's lovely to feel so supported by the community. 
"Lots of locals do their bit with fundraising, and we've been charity of the year at the little Sainsbury's. I always really enjoy the community events, like the Christmas lights switch-on, too as we always get such a great reception from people when they hear about our work.
"We feel really connected here. There are a lot of people who are passionate about making Stapleford better and wanting to help out our young people."
The charity helps young people from across the Broxtowe borough and beyond who are homeless or at risk of homelessness. It celebrated its 35th anniversary last year.
Jessica says she believes Stapleford is a town with real potential and that investment in the area could change the lives of its young people.
"At the moment there isn't a huge amount for young people to do here. They will usually be travelling to neighbouring towns or into the city for their social lives or work. Investment in the town could really change that. I'd like to see it becoming a destination for people from outside the area. Let's make it a town that people want to visit.
"It has so much going for it in terms of its location. I'd love to see us making the most of that and becoming more connected to the surrounding areas in the borough. New shops and new businesses could revitalise the area and draw more people in." 
---
Stapleford audio visual firm praises town investment plan! - Stuart Coe, Nottingham Audio Visual
One of the UK's longest established AV companies, based in Stapleford, is excited about what new investment would mean for the town.
Established in 1967, Nottingham Audio Visual on Pasture Road has been based in the area for over 40 years. Its core business is providing audio visual equipment and technical support services; from corporate video production and AV installation services to equipment hire for conferences events. 
For Nottingham Audio Visual the town is the great location to base its business.
"Stapleford has a lot to offer, and that's why we've never moved. The transport links are particularly good for us to get around the country, our premises give us all the space we need and we have lots of parking - something you'd struggle to get in the city centre," said Stuart Coe, Company Director.
Stuart, who has worked for the business for over 30 years, added: "Stapleford is a good town, but like many others it's really suffered over the last few years from a high street decline. Investment is much needed and really will help breathe new life into our town once again."
When asked what he thinks the town needs in the future, he said: "It needs to become a 'destination town' - a place that people want to come to, and where local people can get everything they need without having to travel elsewhere." 
And as a resident of 24 years, Stuart's loved bringing his family up in the town. "The location of our town's great, we've always been able to walk and cycle from our doorstep and access canals and the countryside quickly, something we've always enjoyed doing. It's been a great place to raise a family." 
For more information about our Towns Deal Investment Plan and proposed projects please visit our Projects page. 
---
'Now's the time for Stapleford to prosper, says property developer' - Ian Jowett, Chair
Ian, Director of William May Developments and Chair of the Town Deal Executive Board, is proud to be Stapleford born and bred, so when he was asked to get involved in the project, he didn't hesitate.
"Having grown up in Stapleford, the town means a lot to me. There's nothing I want more than for it to prosper and now is our time to make that happen. With HS2 on the horizon as well, we have a real opportunity to secure the significant investment our community needs and deserves," he said. 
Ian is committed to helping rejuvenate Stapleford by investing in property and businesses and playing a key role in projects that aim to create a brighter future for the town.
He says this future success will be down to how it attracts more people to move to the town. "We need more people to choose Stapleford as a place to live and work. Property is more affordable than in neighbouring towns, so you definitely get more for your money. And the more people live here, the more will be spent here, and in turn we will see our town come to life again."
The Towns Deal investment aims to give Stapleford the appeal it needs, by creating a better business offer, better community facilities and greener transport links – the things the community said would make the most difference.
"We have a strong and supportive community but the facilities and services on offer are old and don't mirror our town's vibrant community spirit. Good local facilities will be a huge boost for so many people and will bring them together through community activities that will enhance their health and wellbeing too," he added.  
---
'New hub would breathe life back into Stapleford community' - Beth Fisher, OnUp 
A local day care manager says investment in Stapleford will regenerate Stapleford's lost community spirit for future generations to come.
Beth Fisher, who co-runs OnUp, a local service providing day care for adults with learning disabilities and autism, is excited about what the £25m Towns Deal investment could mean, not only for her members, but the wider community too.
Beth, who has worked in the town for 18 years, said: "Over the years I've seen community interaction in the town sadly slowly decline. I think this is as a direct result of the decline of many of the local shops. The old Coop, for example, was somewhere people 
would bump into each other and socialise, and go on to visit a café or other shops afterwards. I think its loss was really felt once closed its doors."
A key part of the council's Towns Deal Investment Fund proposal is to enhance the town's recreational offer through a new purpose-built pavilion facility and Community Leisure Hub which will offer a much-needed space for a range of community activities, from fitness classes to exhibitions, club groups and meetings.
"A new Community Hub will be a huge step forward in bringing this amazing and very committed community together once again. People in Stapleford have a lot to offer and I know that together we can create something special that will have a big impact for future generations too.
"From linking our members with learning disabilities up with local businesses for work experience, to organising walking groups and luncheons, and offering voluntary opportunities for over 70s to use their skills and expertise, there is so much we will be able to do through a dedicated hub," she added. 
---
'Design boss backs new plans for Stapleford' - Darren Woolley, DW Designs 
Graphic designer Darren Woolley says Stapleford has been the perfect location for his company.
DW Design, a creative design agency, moved into offices on Derby Road 15 years ago and has never looked back - the company will celebrate its 30th year in business this year. 
"Stapleford is ideal for us," said Darren. "We did look at other locations but it won out as it was affordable and meant we could actually buy the premises rather than just renting. We were also swayed by the excellent transport links as we do a lot of work with companies in Derby and Leicester, and it's fantastic to be so close to the motorway."
Originally set up by Darren in 1991 shortly after leaving college, DW Design's work ranges from branding and logos, to flyers, brochures, websites and a wide range of marketing and promotional literature. The company also provides print services for clothing and promotional products. Clients include local NHS services and fellow Stapleford companies like Cabin Master and Nottingham Audio Visual, as well as others across the Midlands and beyond.
Darren said they have seen several businesses come and go in the town over the years but have always been touched by the community spirit and the way many of the businesses work together and help each other out.
"We've worked with a number of nearby businesses, helping with their promotional materials, and it's nice to feel like we are all helping each other out," he said.
"There's a nice business community in the town and that's been more evident than ever during the last year or so with people checking in on each other to see how we're all doing."
Darren is excited by the prospect of more investment into the town and welcomes the ideas being put forward for a market.
He said: "It would be lovely to have something like that to help draw people into the area and encourage them to stick around and explore the town. Our business is not as dependent on passing trade as some, although we do get the occasional drop-ins, but it would be nice to see a higher footfall and think that Stapleford could become a place where people choose to come and enjoy shopping." 
---
'Up and coming' Stapleford attracts architect to invest - Izzy and Richard Rhodes, new residents 
An architect who relocated to Stapleford in October, has been so impressed by what it has to offer she's looking to move her business there.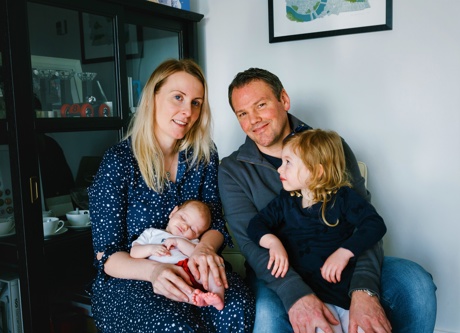 Izzy Rhodes, Director of Swain Architecture, and her account manager husband Richard, were attracted to buy a property in the town for its proximity to Izzy's business in Long Eaton, ease of access to major road networks for client meetings, and to Richard's work at BPX, an electrical wholesaler in Nottingham.
After buying a home to renovate in Bramcote they were keen to invest in a rental property to live in while building work was underway.
Izzy said: "We'd looked at all the towns in the vicinity of my office and Stapleford ticked all the boxes.
"Access wise it's really easy to jump on the A52 to see family and friends back in Derby. The nearby M1 gives me speedy access to all parts of the Midlands for client meetings and public transport is in walking distance from our house to get into Nottingham really easily."
Although they're relative newcomers to Stapleford, the impact of the town on the couple has been great. Izzy has been so impressed she would like to relocate her business to the town in the future. 
She said: "The traffic coming in and out of Stapleford is much better than where my office currently is, and it's closer to the road networks we need for work, and to where my staff live, so I'll most definitely be keeping an eye on the market for premises.
"I really do feel like Stapleford has a lot to offer now, and even more to offer in the future. It's definitely up and coming. HS2 will no doubt have a positive impact and investment in the community, like the Towns Deal, will make a massive difference for businesses and residents, which is great. We definitely made the right move coming here," she said.
For family life, the couple have been surprised with how much there is to do, "We've been amazed with the parks and playgrounds around here, plus you can be in the countryside in less than half an hour's walk which is brilliant," she added.
But Stapleford offers more than just amenities to the family – a strong sense of history and community were also key decision-making factors.
"As an architect, I love the mix of buildings in Stapleford. From terraced housing to old mill buildings, it's got a real sense of history that other towns don't have. There's also a lovely welcoming community feel on our street which shows how happy people are to live here."
For more information , visit our Stapleford Towns Fund page.
---
---