Awsworth Neighbourhood Plan
Awsworth Neighbourhood Plan
Awsworth Parish Council has produced a Neighbourhood Plan for the Parish of Awsworth (see map below)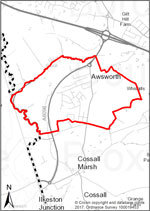 Awsworth Parish Council has produced a Neighbourhood Plan for Awsworth Parish. Following a Referendum held on 10 June 2021, Broxtowe Borough Council resolved to 'make' (adopt) the Awsworth Neighbourhood Plan on 21 July 2021. The Awsworth Neighbourhood Plan will therefore be used when making decisions on planning applications within the Parish of Awsworth, alongside Broxtowe Borough Council's Local Plan.
Background
A Neighbourhood Plan referendum took place in relation to the Awsworth Neighbourhood Plan on Thursday 10 June 2021, asking the question: 'Do you want Broxtowe Borough Council to use the Neighbourhood Plan for Awsworth to help it decide planning applications in the neighbourhood area?'. The number of votes cast in favour of 'Yes' was 401 and those in favour of 'No' was 57. The turnout was 27.26%.
Referendum Documents:
Documents relating to the Awsworth Neighbourhood Area designation, Awsworth Neighbourhood Plan consultations, Independent Examination and Broxtowe Borough Council Jobs and Economy Committee meeting on 25 March 2021 can be found on this website page further below.
For more information about voting and the arrangements for the referendum, please contact Electoral Services on 0115 917 3276 or e-mail elections@broxtowe.gov.uk.
For further information in relation to the Awsworth Neighbourhood Plan, other Neighbourhood Plans or the Neighbourhood Plan process, please contact the Council's Planning Policy Team at policy@broxtowe.gov.uk or by telephoning the Council on 0115 917 7777. Please ask for the 'Planning Policy Team'.
Neighbourhood Area Designation:
Neighbourhood Plan Submission 
Awsworth Parish Council has submitted its proposed Neighbourhood Plan to Broxtowe Borough Council. 
A public consultation on the Neighbourhood Plan Proposals ran between Monday 10th February 2020 and Friday 10th April 2020 (extended as a result of Covid-19).  Redacted responses received to this (Regulation 16) consultation have been published on our website.  The Neighbourhood Plan and related documents can be viewed below: 
Please let us know if you would like to be notified when a decision is taken by the Borough Council on whether or not to 'make' the plan (i.e. if it is adopted as Council Policy under Regulation 19). 
If you require any further information or assistance in relation to the Neighbourhood Plan document, please do not hesitate to contact the Planning Policy Team on 0115 917 3452 / 3457 / 3015. You can also email us at policy@broxtowe.gov.uk. A copy of the Planning Policy Privacy Notice is available on our website.
Independent Examination of the Awsworth Neighbourhood Plan (November 2020)
Broxtowe Borough Council has appointed Mr Christopher Collison BA(Hons) MBA MRTPI MIED MCMI IHBC to undertake the Independent Examination of the Awsworth Neighbourhood Plan and has published his initial letter from November 2020(.pdf)(208KB)(Opens in new window).  Earlier this year, the Regulation 16 Consultation of the Awsworth Neighbourhood Plan was undertaken by Broxtowe Borough Council.   A number of representations to the Regulation 16 Consultation were received by the Council(.pdf)(32MB)(Opens in new window). 
Documents and correspondence relating to the Independent Examination will be uploaded below.
Jobs and Economy Committee, 25 March 2021, the following documents are listed below:
---
---