Back to Strategies, Plans & Policies
Corporate Plan
Our Corporate Plan has been developed for 2016-20 setting out our priorities over the next four years to achieve our vision to make "Broxtowe a great place where people enjoy living, working and spending leisure time."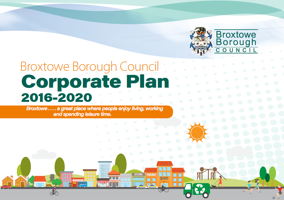 Our priorities
Housing

Business Growth

Environment

Health

Community Safety
Our values
Going the extra mile - a strong, caring focus on the needs of all communities
Ready for change - innovation and readiness for change
Employees - valuing employees and enabling the active involvement of everyone
Always improving - continuous improvement and delivering value for money 
Transparent - integrity and professional competence 
Download a copy of the detailed plan (.pdf) (1.56MB) (Opens in a New Window).
View our Governance arrangements or find out how our objectives will be achieved and measured by looking at our Business Strategies, Plans & Policies
---
Developing the Plan
A consultation of the draft priorities and objectives for the new plan took place last year both online and through Broxtowe Matters. Residents broadly endorsed the key themes in the plan.
An evidence base of key data for each of the five priorities was also used to come up with the objectives.
---
---