Walking and Cycling
Information to help you enjoy and explore the trails of Broxtowe whether you choose to walk or cycle.
Benefits
There are many benefits of walking and cycling. They can improve your health, keep you fit, help to reduce the risk of cardiovascular disease and help you to lose weight. It's also good for the environment and it can save you money on transport costs. Going for a ride or a walk can be a really great activity for the whole family.
---

Discover Trails in Broxtowe
There are a range of short and long walks and trails throughout Broxtowe which can take you the length and breadth of the Borough. They take your along canal paths, to locks, through woodlands, nature sites, sites of interest, the River Trent, places for refreshments and more.
Our two major trails cover approximately  the whole of the boroughs boundary about 40 miles. The Erewash Valley Trail and the Broxtowe Country Trail allow you to see beautiful countryside, wildlife and the waterways.  Both are signed and have plenty of short cuts and circular routes which you can follow.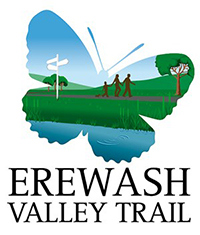 Find out more about the Erewash Valley Trail
Find out more about the Broxtowe Country Trail
The shorter trails include The Monks Way and routes through our Local Nature Reserves. There are also some larger walks which feature Broxtowe in their routes including The Robin Hood Way and Trent Valley Way.
---
Broxtowe Cycle Routes
If you would like a cycle map  for Broxtowe Borough area either pick one up from the Council Offices Beeston, and Bramcote/Kimberley/Chilwell Leisure Centres  or contact the Energy and Sustainability team and we will send a map to you. The  'Nottingham Cycle Map' (Opens in a New Window) is an interactive map showing the Gedling, Nottingham City and Broxtowe area cycling maps.
---
Parks and Environment
tel: 0115 917 7777
LLeisure Events
tel: 0115 917 3695
RideWise
tel: 0115 955 2288
---