Mayor
Information about the current Mayor and Deputy Mayor of Broxtowe and how to contact them.
The Mayor represents the Borough by attending over 250 events during their civic year in office. These engagements include official openings, play schemes, sports functions, charity events, special occasions such as golden weddings and other significant anniversaries and birthdays.
Request a Visit
If you would like the Mayor to visit, please use our online Mayoral Booking form (Opens in a new window).
All Mayoral engagements received are strictly risk assessed.
The Mayor is also happy to connect with residents by email, video calls or pre-recorded messages, phone calls and letter.
We aim to respond to requests within 7 working days wherever possible.
---
The Mayor - Councillor Teresa Cullen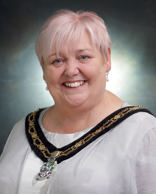 Councillor Teresa Cullen grew up in Toton. Teresa has enjoyed a long career in youth work, which began in 1985 when, at the age of 23, she began her career as an ancillary youth worker at Sandiacre Youth Club. At the time, she was mum to three young children and worked hard to balance her passion for helping young people with her family life.
Three years later, she qualified as a youth worker and took up a role with the National Association for the Care and Resettlement of Offenders, where she ran a Youth Activities Unit for young offenders, with a full time Intermediate Treatment programme.
Over the years, Teresa has worked in various other youth and health work roles, including at QMC, where she set up the very first hospital Youth Club for teenage patients with many different chronic health conditions to have some space of their own to hang out together and get support from youth workers. It was here that Teresa also met her chaplain Paul Waters.
In 2000, after taking voluntary redundancy from her role as National Youth Programmes Director at Youth at Risk, Teresa founded registered charity, Young Potential.
Young Potential developed from a very small youth organisation operating only in Stapleford to a vibrant enterprise, working with over 1,000 young people each year across Nottinghamshire, with bases in Worksop, Beeston and Sherwood.
Following the closure of Young Potential in 2014, Teresa and her good friend Sophie founded Transform. Together they have spent the last nine years building it as a young organisation that specialises in emotional education across Worksop, Beeston and Nottingham City.
Projects include Breakaway for young people with learning disabilities, TLC which provides longer term support to young people with very chaotic and challenging lives, Real Talk for young women and Fusion working with young Hong Kongers who have moved to the UK because of the political situation in their homeland.
Teresa looks back on her career to date very fondly and she never tires of hearing about the amazing things that some of the young people she has worked with have gone on to do. It still takes her by surprise when she bumps into those who are now in their 40s with grown up children of their own!
Outside of her professional career, Teresa has also been an active member of the local community for many years. She became a Labour Councillor on the Borough Council in 2015, first representing Beeston Rylands and now Toton and Chilwell Meadows.
Teresa's Consort for the year will be her fourteen-year-old granddaughter, Poppy. Poppy is currently in training for the Bronze Duke of Edinburgh award and has just successfully completed the training expedition. She likes to volunteer alongside her Granny, Teresa, at the Beeston Rylands community lunch club and is looking forward to spending more time with her as her Consort this year.
Teresa is looking forward to bringing some of her experience in youth work to the role of Mayor, engaging with people across the Borough's many diverse groups and organisations.
---
Deputy Mayor - Councillor Sue Paterson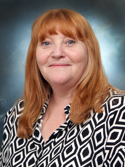 Councillor Sue Paterson was first elected to Stapleford Town Council in May 2019 and Broxtowe Borough Council in the 2021 by-election. When not conducting her duties as a Councillor, she spends her time at a number of local voluntary organisations. She is a trustee of The Helpful Bureau and has been involved with the Mayor's Christmas Hamper Appeal for the last three years and she is also involved with Stapleford Mutual Aid Group.
She is a founding member of Yarn bomb Stapleford, which has been running for just over a year. They offer crochet classes and create the post box toppers and displays which pop up in Stapleford and further afield. The group has grown exponentially, and now includes over 40 people who attend the weekly classes. Sue believes that it is not just about the crochet but also the social aspect of the group that makes it such a valuable addition to the community and helps to bring people together.
---
Charities
Each year, the Mayor supports chosen charities and organises a number of events to help raise money for these charities. 
Full details about the Mayor's planned charity events are available by visiting the Charities Page.
Past Mayors
In 1977 the Council was granted Borough status and the first Mayor was elected. Since being granted Borough status in 1977, there have been 47 Mayors in office including the current Mayor, Councillor Teresa Cullen.
If you'd like to know more about Broxtowe's Mayoral history, you can view a list of all of our past mayors. (.csv) (1.41KB) (Opens in a New Window)
---
---