Mayor
Information about the current Mayor and Deputy Mayor of Broxtowe and how to contact them.
Important Notice
In light of current Government guidance and the local alert level in Broxtowe, the Mayor is not undertaking face to face engagements.
We are able to arrange virtual engagements by telephone, video calls or letters. 
Events which are outdoors may be considered providing:
They comply with local COVID-19 restrictions
COVID-secure measures are in place
Risk assessments are in place
If you'd like to connect with the Mayor, please get in touch with the Civic Office on 0115 917 3210 or email civic@broxtowe.gov.uk
View the Mayor's video messages
View the August 2020 video message
---
The Mayor represents the Borough by attending over 250 events during their civic year in office. These engagements include official openings, play schemes, sports functions, charity events, special occasions such as golden weddings and other significant anniversaries and birthdays.
 The Mayor

Councillor Janet Patrick was installed as the 44th Mayor of the Borough of Broxtowe at the annual meeting of Broxtowe Borough Council held in May 2020.
Councillor Janet Patrick spent her childhood in rural Welsh Wales in the 1950's. She was the eldest of four children, her brother had special needs and her father was a plumber.
Janet went to Secondary School in Birmingham and graduated in Social Science from Hull University with a BA (Hons) and a year later with a PGCE from London University. For many years she taught at Shepherd School and Oakfield School for children with severe and profound learning difficulties.
After her marriage to John, a Doctor, she lived for five years in Nigeria and New Guinea; in 1975 John and Janet moved to Beeston with their four sons and made a home there. Janet has always enjoyed being part of the community, she was a founding member of Voluntary Action Broxtowe and in 1976 she, with Brian Clough, opened the first charity shop in Beeston, for Oxfam.
In 1990, when their sons were at University, Janet and John went to the Aga Khan Medical University in Karachi, Pakistan, where John taught medical students and Janet worked as a volunteer in the shanty towns. This was followed by nine years in Blantyre, Malawi, here she taught in two International primary schools and in a Malawian secondary school.
When Janet returned to Beeston, she volunteered at Citizens Advice Broxtowe, where she is now a trustee. Janet was elected to the Broxtowe Borough Council in 2011, she represents the Council both on the CAB and the Beeston Consolidated Charity. Alongside being a Councillor and Trustee, Janet is a Methodist Local Preacher and worships with Methodist and Anglicans.
In 2014 Janet, with other local supporters, opened the Beeston Memory Café for people living with dementia and their carers'.  In the beginning it only opened once a month but now meets weekly with around 50 people attending the café at Middle Street Resource Centre.  Beeston Dementia Friends provides a warm and friendly atmosphere as well as a Carers' Group.
In 2014 Janet led the campaign to welcome Syrian refugees to Broxtowe under the Government Resettlement Scheme. There are now eight families living locally. She is also a member of the Broxtowe Steering Group for Refugees and Asylum seekers.
In their spare time, the Patricks are keen gardeners and have opened their garden many times for the Beeston Garden Trail. Apart from gardening, Janet enjoys embroidery and being with her grandchildren.
During her Civic Year, Janet will be supported by her Chaplain, Reverend Wayne Plimmer from St John the Baptist Church, Beeston.
The charity that Janet will be supporting during her year in office is Citizens Advice Broxtowe. Find out more about her charity work on the Charities webpage.
Deputy Mayor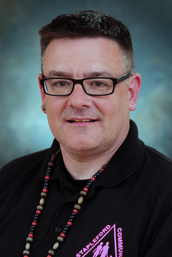 Councillor Richard MacRae will assist Councillor Janet Patrick as Deputy Mayor during the 2020/21 civic year and is looking forward to his year in office as Deputy Mayor.
Richard lives with his wife, Donna and their daughter.
Following a by-election, Richard was elected to the Town Council in January 2014 for the remainder of the Administration and was re-elected again in 2015, he also became a Broxtowe Borough Councillor in 2015. Richard retained his seat in 2019 for the Stapleford North Ward on both Stapleford Town Council and Broxtowe Borough Council.
Richard has lived in Stapleford all his life
---
Request a Visit
Whilst social distancing measures remain in place, the Mayor is looking for new ways to connect with residents by:
Email
Video calls or pre-recorded messages
Phone calls
Letters
If you'd like to get in touch with the Mayor or would like to nominate someone to receive contact from her, please contact the Civic Office. 
We aim to respond to requests within 7 working days wherever possible.
Charities
Each year, the Mayor supports chosen charities and organises a number of events to help raise money for these charities. This year the Mayor has chosen to support Citizens Advice Broxtowe. 
Full details about the Mayor's planned charity events are available by visiting the Charities Page.
Past Mayors
In 1977 the Council was granted Borough status and the first Mayor was elected. Since being granted Borough status in 1977, there have been 44 Mayors in office including the current Mayor, Councillor Janet Patrick.
If you'd like to know more about Broxtowe's Mayoral history, you can view a list of all of our past mayors. (.csv) (1.41KB) (Opens in a New Window)
---
---