Mayor
Information about the current Mayor and Deputy Mayor of Broxtowe and how to contact them.
The Mayor represents the Borough by attending over 250 events during their civic year in office. These engagements include official openings, play schemes, sports functions, charity events, special occasions such as golden weddings and other significant anniversaries and birthdays.
Request a Visit
If you would like the Mayor to visit, please use our online Mayoral Booking form (Opens in a new window).
All Mayoral engagements received are strictly risk assessed.
The Mayor is also happy to connect with residents by email, video calls or pre-recorded messages, phone calls and letter.
We aim to respond to requests within 7 working days wherever possible.
---
The Mayor - Councillor David Grindell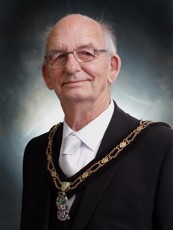 Councillor David Grindell was born in Gosport, Southampton and later moved to Plymouth to attend school, before going on to train with the NHS. He has two grown up children, 4 grandchildren and one great grandchild.
After years of working in Bristol, Newcastle, and Manchester he became an employment and training officer in Mansfield, moving to Stapleford in 2003.
In 2005, David became a Councillor representing the Stapleford South East Ward on Stapleford Town Council and he has been Town Mayor of Stapleford twice. He was first elected to Broxtowe Borough Council in 2011. David believes passionately in serving the people of Broxtowe and he's been involved in Dig-In Community Allotment, the Disability Forum, Stapleford Combined Services Club, Stapleford Community Group, and supported St Helens Church. David also supported the Royal Marines Association and was instrumental in bringing the Walter Parker VC Memorial Plaque to the Town Square.
More recently, David has been a member of the Executive Board as part of the Stapleford Town Fund which received £21.1 million in funding from the Government. This will see six projects take place including the refurbishment of Stapleford Library a new Youth Club and Community Pavilion.
It has been David's aim to become Mayor of the Borough of Broxtowe and he has chosen Mental Health in the community of Broxtowe (based in Middle Street, Beeston) as his charity.  He also hopes to raise awareness for The White Ribbon campaign to end domestic violence.
David is looking forward to a busy year supporting the local community and already has a programme of events arranged, especially around Her Majesty the Queen's Platinum Jubilee. If you would like the Mayor to attend your event, please introduce yourself and get in touch via the Broxtowe website and complete the online request form.
The charity that David will be supporting during his year in office is Beeston Community Resource CIO charity who manage The Middle Street Resource Centre (MSRC) in Beeston . Find out more about the Mayor's charity work on the Charities webpage.
---
Deputy Mayor - Councillor Teresa Cullen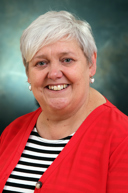 Councillor Teresa Cullen, represents The Beeston Rylands Ward and has been a member of the Labour party for over 20 years, having grown up in Toton.
Teresa currently works for local youth charity Transform. She is also the Chair of Trustees at ENABLE, Chair of Trustees at Beeston Rylands Community Association, a Trustee of Mansfield CVS and Director of Transform Trainers and Consultancy CIC. She is a member of ACEVO, the Association of Chief Executives of Voluntary Organisations and The Institute of Directors.
Teresa is married to former Borough and County Councillor, Mick Warner. She has 5 grown up children and 7 grandchildren.
Councillor Teresa Cullen will assist Councillor David Grindell as Deputy Mayor during the 2022/23 civic year and is looking forward to her year in office as Deputy Mayor. 
---
Charities
Each year, the Mayor supports chosen charities and organises a number of events to help raise money for these charities. This year the Mayor has chosen to support Beeston Community Resource CIO charity who manage The Middle Street Resource Centre (MSRC) in Beeston . 
Full details about the Mayor's planned charity events are available by visiting the Charities Page.
Past Mayors
In 1977 the Council was granted Borough status and the first Mayor was elected. Since being granted Borough status in 1977, there have been 46 Mayors in office including the current Mayor, Councillor David Grindell.
If you'd like to know more about Broxtowe's Mayoral history, you can view a list of all of our past mayors. (.csv) (1.41KB) (Opens in a New Window)
---
---