Mayor
Information about the current Mayor and Deputy Mayor of Broxtowe and how to contact them.
Important Notice
Whilst COVID-19 restrictions remain in place, when requesting a Mayoral visit, the Civic Office will be asking for information about how the event complies with COVID-19 restrictions, what COVID-secure measures are in place and for larger events, what risk assessments are in place.
We are also able to arrange virtual engagements by telephone, video calls or letters as an alternative to face to face. 
If you'd like to connect with the Mayor, please get in touch with the Civic Office on 0115 917 3210 or email civic@broxtowe.gov.uk
---
The Mayor represents the Borough by attending over 250 events during their civic year in office. These engagements include official openings, play schemes, sports functions, charity events, special occasions such as golden weddings and other significant anniversaries and birthdays.
 The Mayor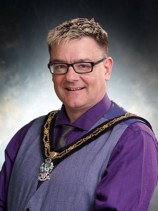 Councillor Richard MacRae was installed as the 45th Mayor of the Borough of Broxtowe at the annual meeting of Broxtowe Borough Council held in May 2021.
The eldest of three children, Richard grew up in Stapleford and is incredibly passionate about supporting the local area. He attended Bramcote Park Comprehensive School, People's College, Broxtowe College and the Arthur Mee Centre. 
Richard is married to Donna, who always supports him in all he does and they have a daughter Danni, who is Richard's inspiration for his community work.
Richard has been an Independent Councillor for Stapleford North since 2015 and also sits on Stapleford Town Council, where he served as Stapleford Town Mayor during the 2020/21 Civic Year.
Before becoming a Councillor, Richard, spent thirteen years as a Head Door Supervisor working at many venues in Nottinghamshire. 
Richard is an active member of the local community, setting up Stapleford Community Group in 2011 which activities include organising bus trips, job fairs, supporting local foodbanks and collecting and distributing surplus food on a daily basis. 
His community work has been well recognised and Richard has received 10 awards including the Prime Ministers Points of Light Award, Nottingham Community Stars Awards and Nottinghamshire County Council Chairman's Award.
During his Civic Year, Richard will be supported by Emma Jones, from St Helen's Church, Stapleford as his Chaplain.
The charity that Richard will be supporting during his year in office is Broxtowe Youth Homelessness. Find out more about the Mayor's charity work on the Charities webpage.
---
Deputy Mayor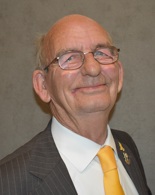 Councillor David Grindell will assist Councillor Richard MacRae as Deputy Mayor during the 2021/22 civic year and is looking forward to his year in office as Deputy Mayor.
David, a Liberal Democrat Councillor for Stapleford South East, has enjoyed serving the residents in Broxtowe Borough on the several occasions he has served as a Borough Councillor from 2011 and again in 2019.
David is a member of the Alcohol and Entertainments Licensing Committee, Housing Committee, Licensing and Appeals Committee and Planning Committee.
He also has also been a Stapleford Town Councillor still since 2005 and served as Town Mayor in 2009/10 and 2013/14.
---
Request a Visit
Whilst social distancing measures remain in place, the Mayor is looking for new ways to connect with residents by:
Email
Video calls or pre-recorded messages
Phone calls
Letters
If you'd like to get in touch with the Mayor or would like to nominate someone to receive contact from her, please contact the Civic Office. 
We aim to respond to requests within 7 working days wherever possible.
Charities
Each year, the Mayor supports chosen charities and organises a number of events to help raise money for these charities. This year the Mayor has chosen to support Broxtowe Youth Homelessness. 
Full details about the Mayor's planned charity events are available by visiting the Charities Page.
Past Mayors
In 1977 the Council was granted Borough status and the first Mayor was elected. Since being granted Borough status in 1977, there have been 45 Mayors in office including the current Mayor, Councillor Richard MacRae
If you'd like to know more about Broxtowe's Mayoral history, you can view a list of all of our past mayors. (.csv) (1.41KB) (Opens in a New Window)
---
---